WordPress vs Drupal – 7 Factors to Decide Which is Right for You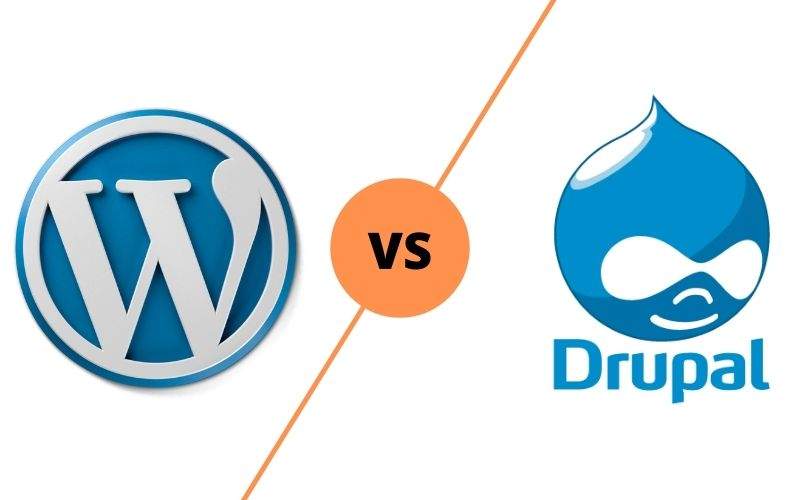 A content management system or CMS is an important platform for any website. It enables you to make modifications and inclusions in the website content, along with delete or change areas that require improvement. Each website adopts an appropriate CMS for its requirements, based on its features and functionalities.
WordPress and Drupal are the two most well-known names in content management systems. These two platforms have their focused takers and a niche area, as their advantages are considerably unique.
It is important to discover which CMS is ideal for your business when you spend money on one. When your primary necessity is an open-source and user-friendly program, these two options suit your purposes. Therefore, you can find puzzled by which to choose.
Both of these platforms have some common functions, however, they appeal to a unique market. Based on who you ask, you will get different ideas concerning their knowledge. For this reason, we have created in-depth research on WordPress vs Drupal.
Business and Application
WordPress is the most well-known content management system with regards to brand popularity and business. Released in 2003, this platform powers 38.8% of all websites worldwide, with a 59.8% business.
On the other hand, Drupal runs 2.3% of all websites. It was founded in 2000 and currently occupies a 4.6% business in this market. However, Drupal has many benefits that are being found by businesses over time.
Benefits of WordPress and Drupal
WordPress performs exceptionally well in the following areas:
It is probably the most user-friendly content management system and works ideal for non-technical people.
It has several plugins and themes for more effective customization.
You will get quick customer support, no matter what place in the world you are in.
It is very cost-effective for developers. You can use the services of any WordPress development company to fit your needs.
Similarly, Drupal has benefits in the following areas:
It has a more considerable provision of customized content types and views. You can manage access to sensitive data and place personal authorizations through its built-in access control system. You will find a built-in multilingual functionality in Drupal 8.
It is simpler to identify and handle bulks of information.
After understanding the benefits, let's evaluate the overall performance of WordPress and Drupal in a few considerable areas that impact the features of a content management system.
WordPress versus Drupal: Overall performance
Our main objective in content management is to manage data simply, have a dependable platform to maintain and customize the content, and ensure the platform support all benefits necessary for the website. Hence, we will offer you a concept of how WordPress and Drupal evaluate in important areas.
1. Simplicity of use
WordPress ranks top with regards to becoming user-friendly. It is excellent for novices who are seeking to develop a fully functioning website. You can choose a theme and develop a standard website in under a day. It is also ideal for informal users, with customized themes and choices.
Drupal, however, doesn't spend money on themes as much. You will have to customize it intensively to develop a ready product. Generally, it would need the support of a developer. This makes Drupal difficult for novices and quite complex initially. Overall, it has a higher learning challenge than WordPress.
2. Plugins and themes
You can choose plugins and themes to create these platforms creatively and functionally more effective. In theme choices, WordPress offers over 5,000 free options and thousands of paid types. Drupal has more than 2,500 themes, of that approximately 250 are suitable for Drupal 8.x.
WordPress has over 53,000 free plugins, as well as thousands of more paid ones. Drupal has more than 39,000 plugins, that refer to modules. However, no more than 4,000 modules are suitable for Drupal 8.x. That said, you need to determine the platform not depending on the number of choices but on whether the functions focus on your needs.
3. SEO
Search Engine Optimization is vital for any business website along with a fundamental function of a CMS. Both WordPress and Drupal have excellent provisions for SEO. For example, Yoast SEO is accessible for each platform, but WordPress provides more options for SEO plugins.
However, please be aware that Drupal includes particular in-built SEO-friendly functions that aren't intended for WordPress without exterior plugins. Drupal also promotes native caching, which supports faster page launching times and improves search ranks.
4. Security
Drupal has the status of becoming a secure and powerful platform that is dependable by significant businesses. There is no doubt of the data's security when you are employing this platform.
Because WordPress supports a lot of plugins and themes, there is a small chance of security problems. Drupal, with its minimal external add-ons, assures a closed environment. You may also place personal authorizations for data with this platform. However, both systems use a quick support team to deal with any security concerns.
5. Content Management
This selection relies on the user's viewpoint. WordPress provides a lot in content management and performance. It offers more publications and outlets for relevant content compared to Drupal. Additionally, it requires a shorter time to finish basic responsibilities such as CMS upgrades.
Nevertheless, each platform is supported globally and majorly coded in PHP. They both run perfectly in low-power web servers and shared platforms, however, their performance relies on the plugins you set up.
6. Customization
In a larger sense, WordPress provides more customization to increase functionality. You will have a ready website with minimum time and work. Drupal requires lengthier to be perfected. However, if a developer customizes Drupal sufficiently, the result can be far more unique compared to WordPress. Generally, WordPress may be the platform preferred by non-developers, while developers might find their innovative urges happy only over the work installed in Drupal.
7. Design and Development
Each system allows you to design templates and select themes for quicker development. WordPress expresses the image sizes for each breakpoints in the features.php file, while Drupal allows you to set image sizes within the admin.
WordPress includes a native mobile application for content modification. Drupal doesn't have an application yet, but Drupal 8 provides an easy and responsive mobile ecosystem.
Bottom line
Each WordPress and Drupal are great content management systems, with their own set of specific features and development platforms. Based on your business requirements, select the right fit i.e. a good WordPress development company or perhaps a company that has experience with Drupal Development, and have going!