Charting 6 Key Benefits of Press Release for Your Business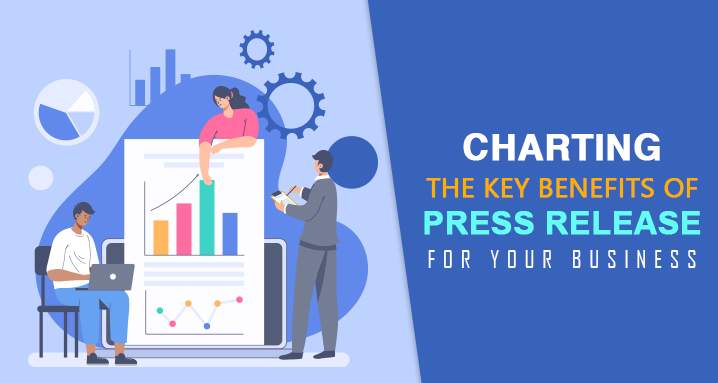 Every time a new marketing tool or forum enters the arena, people start nagging about the death of press releases. But this is not the case at all.
In this high-technology world, every business needs publicity. A venture, big or small can truly benefit from a PR. When you hear people talking about PR submissions, you might be thinking to yourself, 'what exactly is a PR and how they function in making a business popular'? Frankly speaking, we get it. And, hence, let's start with the basics:
What is a Press Release?
In simple words, a press release is a document or article that is sent to the media houses to bring coverage to your brand, company, or business. There are times when you read about your favorite car, drink, or sports team. High chances it's because of a PR.
If you look around, the news is everywhere but a business must make the news get noticed by the target audience. Once you start exploiting the benefits of this marketing tool to the fullest, you can count on the rewards.
Every entrepreneur wants to stay ahead in the race, don't they? But nothing comes without a price. Distributing the release through a paid service can dramatically improve the results. Therefore, it will be a wise decision to hire a good distributional service to raise your business profile.
Now, let's learn the several benefits of press release that contribute towards your marketing goal.
1. Communicate with the target audience
In today's scenario, you no longer write press releases just to impress the media. There are approximately 80 million people who get their daily news feed from online forums. Hence, it is only wise to direct it towards them as well, as they could be your customers.
For a new brand, it is increasingly important to hit the right ground and gain some initial traction. But for a beginner, it is a daunting task to perform. To let people know who you are and what your brand is offering, these are the few questions that need to be taken care of.
What should be my content type?
What is the key focus of my press release?
Who is the target audience?
The great part is that numerous professionals around can help you nail down the answers. Don't shy away from seeking their help. They can greatly assist to boost your PR performance by hitting the desired audience base.
2. Value for Money
Needless to say, that money holds great value in any business venture. It is imperative to keep the advertising costs in check. However, with a press release, you don't have to sweat yourself. The overall cost of a PR is much cheaper than any other forms of paid or traditional marketing methods.
These are the few things that you must be aware of:
Billing method of the publication
Distribution channels of the PR
Placement price
Expected engagement from your niche
The geographical location of the audience
Tracking the PR analytics
Knowing these components is crucial to receive a favorable ROI. But it seems as a new business owner, you can be juggled up with loads of work and in such cases trying to handle the PR on one's own might complicate things. This could further end up being pricey.
Hence, hire reputed agencies when releasing a PR for the first time so that you can avoid unnecessary spending. The PR distribution hub can easily manage the writing, formatting, distributing and reporting processes at a friendlier price.
3. Increase in Return
On top of all the advantages listed above, your business will receive increased sales. But, it is worth mentioning that this is only possible when you allow a professional to position the PR according to your niche. After all who doesn't want to earn some extra sales!
One of the most common ways to get that is to highlight the key benefits of your product inside the PR. This is where the knowledge of the experts comes to play. How?
Well, learning about your company's history, your brand and product details, and every minute detail related to your target audience is what the experts focus on. They exactly know when and how to shoot the PR to get sales that will typically cover the cost of your PR. Sounds great, isn't it?
Hence, consider their guidance to reach new buyers and earn more sales.
4. Boost SEO
You all know what role Google plays in daily life. When Google finds a particular brand name popping up more frequently during related searches, it automatically considers it to be a more valuable source. The level of coverage your PR gets when it is placed on the top of the search engines is incredible. But there's a twist!
This kind of recognition is only possible when the PR is carefully SEO optimized. Few elements that optimization include:
Title
Headline
Metadata
Keyword (industry-specific)
CTAs
By closely monitoring and optimizing each of the above points while releasing the PR would directly have a high impact on the SEO value of your brand.
5. Awesome Traffic
Perhaps this is the only place where you would be delighted to receive more and more traffic! On a serious note, it's a dream for any marketer or business owner to get more visitors. And, press releases can be that channel to get relevant traffic.
But, to receive the kind of traffic you anticipate, you need to select a distributional house that is worthy. They could easily find innovative way-outs to double your traffic inflow. Some ways in which they can create an interest in the audience are:
Mentioning the product or website name in the PR
Mention limited discounts
Offer exclusive benefits
Include opt-in forms on the landing page
6. Sharing is more than Caring
Oh yes! You read that right. In a digitally-driven world, sharing across social media platforms is a much more effective way of showing that you care for your brand. Once your PR gets distributed across platforms like Facebook, Instagram, Twitter, Reddit, Pinterest, LinkedIn, and others, there are high chances for people to share it with their friends.
The power of social media is unimaginable. It can bring in unexpected traffic if the message is sent out correctly. However, to reap the maximum benefits of this free form of marketing, allow the professionals to structure the campaign. They have the necessary insight to craft a valuable PR.