5 Types Of Wedding Bouquets You Need To Know About
"Flowers bring colours to life."
Wedding is a big day for everyone. And to have this day a big success is what everyone craves for. And the decoration is an important part of a wedding celebration. May it is a themed wedding or not, the decoration is always an important element of wedding celebration. It is irrespective of the type of rituals taking place. Talking about decorations floral design is quite trending these days.
So you are also planning for floral decoration for your wedding ceremony you will have a lot of choices to make. Apart from your ceremony and reception flowers, to choose a wedding bouquet would be a big decision for you to take. As there is a huge variety of wedding bouquets available these days and to choose the best one that does well with your preferences is where the choice is actually to be made. This is because of the wide range available which can conquer your mind and baffle your thoughts also so e people do not have a clue about this wide variety of wedding bouquets available.
The bride, bridesmaid, and sometimes the older flower girls all carry bouquets that are traditional style or like in the modern era and therefore bouquets are an important part of wedding decoration to be taken care of. Generally while choosing a bouquet brides ask few common and important questions like what are different types of bouquets? How to choose the best suitable bouquet?
Well if you also have similar queries in your mind to pick a perfect bouquet for your wedding ceremony then here is all you need to know about. Here are the types of wedding bouquets you need to know about. To identify your preferences and choose the best bouquet from the myriad for your wedding ceremony.
1. POSY BOUQUET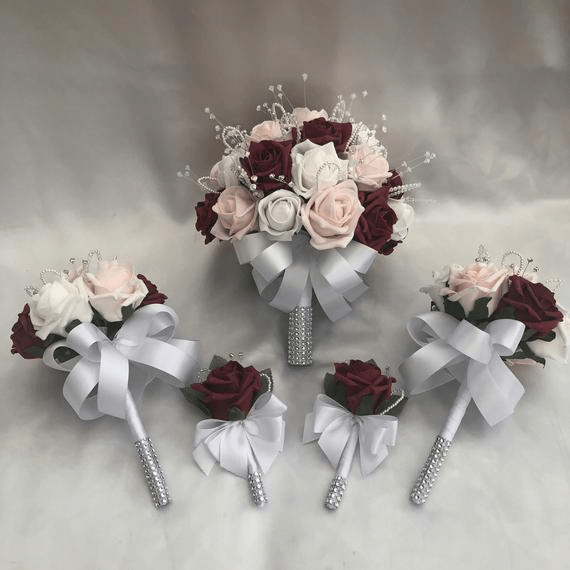 Posy Bouquet is a popular and classic type of bouquet that is a good choice for brides. They are generally liked by the brides as they are small in size which makes them quite handy. And these bouquets mostly feature flowers unlike greenery or any other foliage typically used in wedding bouquets. These bouquets are usually round wrapped and tied in a ribbon that creates an eternal style. Tulipa, roses, or ranunculus are commonly used flowers in Posy Bouquet.
2. NOSEGAY BOUQUET
Unlike the posy bouquet, nosegay bouquet pays more emphasis on greenery instead of flowers. But as a bouquet is incomplete without flowers the flowers most commonly used in Nosegay Bouquets are roses, orchids, or calla lilies. This is a popular style of wedding bouquets you need to know about as this is a perfect fit for bridesmaid bouquets, this is because this type of wedding bouquet is famous for its arrangement of small compact size flowers. This type of wedding bouquet is also a good match for older flower girls to hold instead of a basket Or like a pomander bouquet.
3. CASCADE BOUQUET
Cascade bouquet also known as pageant bouquet Or presentation bouquets is a commonly used wedding bouquet you need to know about. These bouquets used for the wedding ceremony are arranged like a waterfall of flowers that drape down the front arrangement. This type of wedding bouquet consists of a group of fresh greenery and various other types of long-stemmed calla lilies Or long-stemmed orchids particularly arranged to look beautiful spilling out of the bouquet just like a river flowing through the mountain.
These bouquets can be well used for decoration and other purposes for any style of wedding ceremony. If you use this as a bridal bouquet, it will make a strong style statement. Therefore it is advised to choose your Indian wedding wear and other accessories fairly simple that Justifies your bridal looks. Cascade Bouquet is surely a lovely choice as a wedding bouquet.
4. COMPOSITE BOUQUET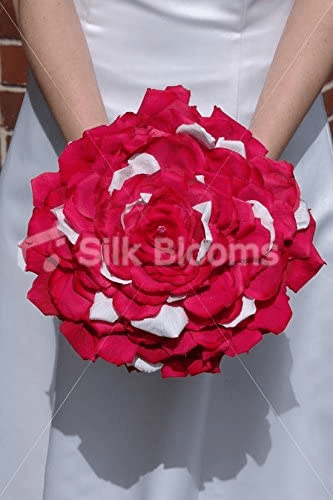 Composite Bouquet known as amelia is one of the most gorgeous wedding bouquets you need to know about. These are constructed by putting together individual petals which are secured and arranged to be assembled as a single large bloom. Brides who like a bit of drama and theme wedding usually prefer these bouquets for their wedding ceremony. As these gorgeous and super stylish bouquets complement their bridal attire and make her look even more astonishing on her D-Day.
5. ROUND BOUQUET
Round Bouquet is very popular among the wedding bouquet you need to know about. These are like my many people are a choice of many brides. This is all because of the awesome shape of this bouquet. Round Bouquets are composed in a proper round shape similar to perfect domes. These bouquets are usually made from a single type of flower-like roses or peonies. Round bouquets are usually monochromatic when they are used as wedding bouquets. Round bouquets are a perfect option for wedding bouquets as when used for the same they look like beautiful features of flowers in a variety of colors and this is altogether a very unique solution.
Flowers are like your well-wishers, they bring colors and joy to your wedding. They are the music of the group that calms your soul. Therefore there is no wrong in whichever type of wedding bouquet you choose. The decision is completely your only important thing is that you love your wedding bouquet as you live in your bridal dress. Therefore know about all the options available, decide your preferences first and choose a bouquet accordingly, ask for professional advice if necessary and pick the best one for yourself. As every flower blooms in its own time to make your soul happy.