Know About 9 Types of Push Up Bra Before Buying One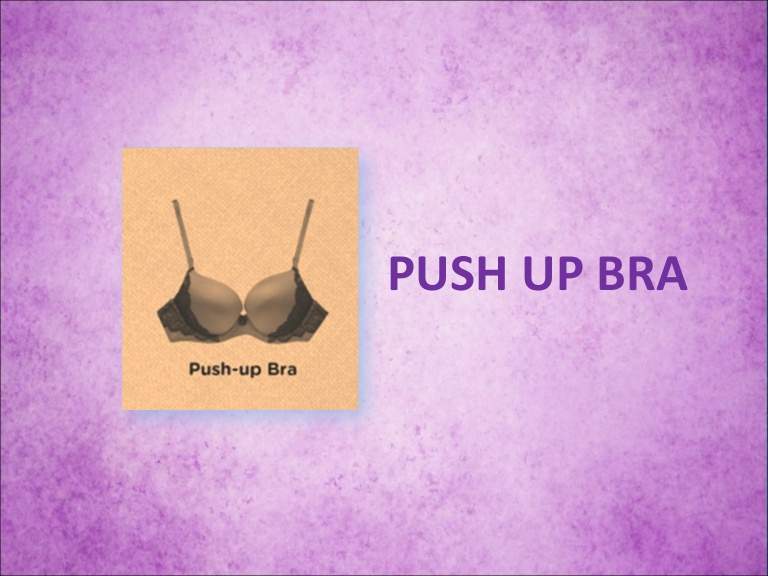 Push-up bras are like the underdogs of brassieres and many women still don't know the full potential of these bras. These bras provide a proper posture, comfort and support to your bust.
They also add an oomph factor and are synonyms for desirable and sexy.
Push Up bras are majorly classified on two bases and both should be considered while buying a perfect fitting bra. Not to forget, they are further divided into subcategories, so you might want to read them carefully.
Based On The Padding's Thickness
1. Level 1
These bras are beneficial for women who have a full or semi-full bust i.e D cup. They give a natural and gentle lift to your bust. Level 1 brassieres add a half-cup to your bust because one-third of the bra is padded.
The relaxed hold supports your bosom and provides it with a slight bump that does not attract unwanted attention.
2. Level 2
These bras are ideal for women who have a slightly smaller bust i.e B or C cup, with wide-set breasts. They add a moderate lift to the bust by emphasizing your cleavage and covering the base of your bust.
With the proper finish and sturdier grip, level 2 gives a rounded appeal to your bosom and sculpts it to perfection.
3. Level 3
These types of brassieres are usually referred to as explosive bras as they add the oomph factor to your bust. They increase the cup by 2 sizes, twice the lift given by level 1 bras. These bras are best suited for women with a small bust, i.e A or B cup. Contrary to level 1, three-fourth of the brassiere is padded and are low cut, giving the ladies a chance to flaunt their perfectly sculpted cleavage by wearing low cut tops.
Level 3 Push up bra gives women a much fuller look, so we suggest women with the fuller cup avoid it as it may turn out to be highly discomforting.
Based On Style
Unlike the first classification on the basis of padding, push-up bras come in countless styles so trying to sum up in a list would be a tough job. However, we have listed a few according to their popularity amongst females.
4. Strapless Push-up Bra
As the name suggests, these bras have no straps and are best suited for dresses that demand you not to wear a strappy brassiere. A lot of women worry as to how it is going to hold or stay without straps, but there is no need to worry as the band underneath provides the support.
A strapless push up bra is not at all suited for bigger or fuller busts because it gives a quad boob effect that might lead your breast to emerge out of the cup.
You can pair them with strapless, off-shoulder, halter neck, or one-shoulder dresses and tops, etc
5. Plunge Push-Up Bra
Planning to show off some cleavage with low cut tops, then plunge Push-up bras are just for you. These bras have short wiring in the front bottom with cups comfortably seated deep between your cleavage. Women with loose breast tissues must avoid these bras because they may cause discomfort and will not provide proper support to your bust.
You can pair them with low cut, deep neck, v-cut tops or dresses
6. T-Shirt Push Up Bras
A T-shirt push-up bra is something that you need when wearing a t-shirt as it fits smoothly on a t-shirt and does not show the neckline through it. It gives extra coverage to your bosom without any undulation on your top.
You can pair them with T-shirts, Tees, smooth textured tops, etc
7. Wireless Push-Up Bras
Wired bras can be uncomfortable because of the underwire, and if you want to get rid of it, then opt for wireless push-up bras. With the advancement, wireless brassieres have the cups fashioned in a way that fulfilled the purpose and durability of a wired brassiere without the uncomfortable wire.
You can pair them with t-shirts, tops, sleeved dresses, etc.
8. Bridal Push Up Bra
These bras are the most desirable ones and they come with detachable straps. So if your dress demands a strapless bra, then just remove the straps without any hesitation because the band will provide the utmost support. Women with fuller bosoms should avoid going strapless with these bras.
You can pair them with strapless, off-shoulder, one-shoulder, halter neck, low cut and simple tops and dresses.
9. Fancy Back Push-up Bras
These bras not only let you flaunt your cleavage but, their fancy back design also lets you flaunt your back. If you are bored with ordinary bras, then go for a fancy back push-up bra.
You can pair them gorgeously with backless dresses and tops.