9 Essential Steps for Outdoor Furniture Maintenance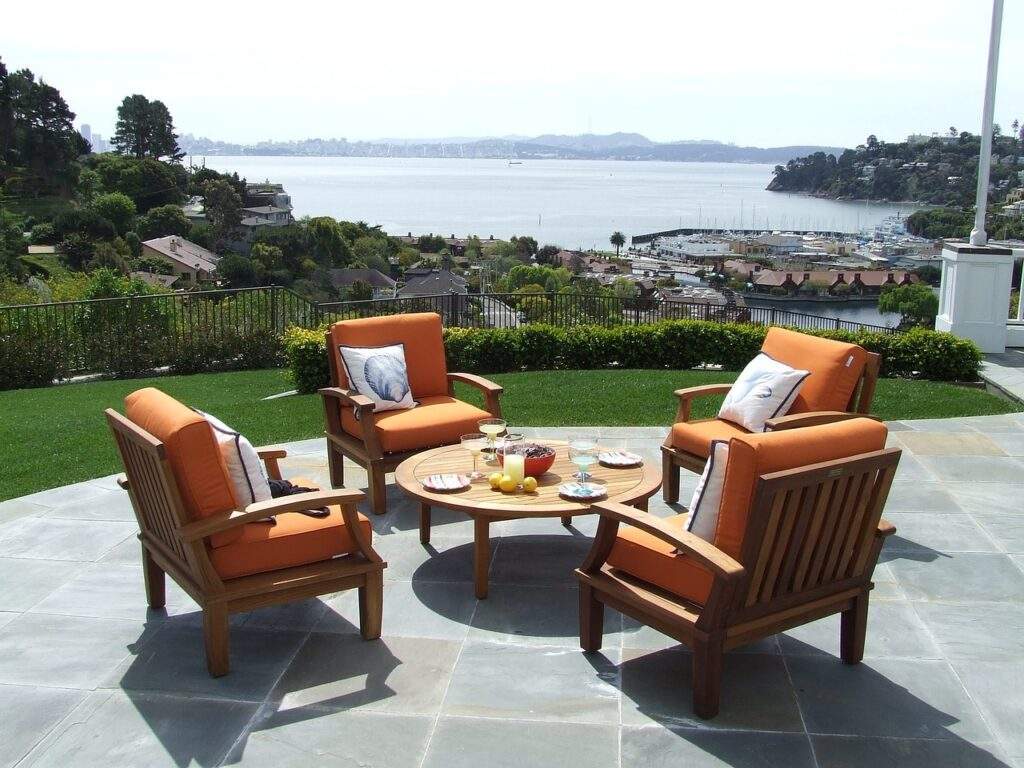 When it comes to outdoor furniture maintenance, it is essential to make a worthwhile investment that will last for years. This way, you will enjoy the purchase and keep a significant amount of raw material (mainly aluminum and HDPE plastic) out of landfills. But to save this considerable investment, it is crucial to regularly keep up with essential preventive maintenance and care for your furniture.
However, most custom hospitality furniture needs care against weather conditions. Luckily it takes little hard work to maintain the furniture in pristine condition. In this blog, we discover outdoor furniture maintenance so you can preserve the investment for years to come.
Practical Steps to Maintain Outdoor Furniture Maintenance
Let's consider some of the practical steps of outdoor furniture, so you can preserve your crucial investment for years to come.
1. Selecting Biodegradable and Non – Hazardous Products
Choose cleaning and maintenance products that are biodegradable and non-hazardous. It ensures to use the of suitable products for related materials. Many companies have created custom hospitality furniture which is biodegradable and waterproof.
2. Use An All Surface Cleaner
When investing in patio furniture, purchasing a multi-purpose cleaner to easily remove dirt and other outdoor furniture is recommended. Various DIY approaches are available, like a combination of white vinegar, dish soap, and water. But instead of using this, it is better to use approved cleaning materials. Use this cleaner by spraying it on a cotton cloth and wiping it down accordingly. 
If tough stains are harder to clean, use a soft bristle brush to remove excessive build-up. Use a soft brush or cloth on the surface, ensuring that you won't remove the finish of your furniture and that it maintains fresh new.
3. Purchase Protective Covers
One of the most crucial steps to maintaining outdoor furniture is to purchase protective covers. While it seems the most straightforward solution but protective covers are one of the things that easily slip from the mind. Initially, when you purchase furniture, it is essential to buy protective covers. This way, you are prepared for any consequences like rain or storms. However, good covers will not keep your furniture dry but keep it maintained.
If you forget to purchase the protective covers, then it is a good idea to keep them close for easy access. Otherwise, placing the covers over your furniture is also a good idea. This way, everything remains clean and dry until the next time when you are ready to use furniture.
4. Clean Before and After Storage
Before storing or covering the furniture, a good cleaning is required that helps to protect and renew the furniture from sun exposure and extreme weather conditions. Therefore, it is recommended to treat before winter storage at the beginning of the season when the furniture is placed for regular use.
5. Sanding for Hardwoods
For hardwoods, including teak, sanding is the first step in removing stains or dirt. It can be followed by carefully applying cleaning products to remove any mildew and cover it to enhance its useful life and color.
6. Keep an eye on Dirt and Water Accumulation
We can't control environmental conditions, but keeping an eye on standing water or dirt is crucial. Some the furniture materials like synthetic wicker, teak, and HDPE poly are water resistant, but if placed for dry out, they increase their useful life. Due o some reason, if you fail to cover the furniture, there is no hassle. There is one solution check the furniture when the atmosphere is clean and let the furniture dry completely. Sometimes, excessive moisture in furniture will start smelling bad and get trapped in the bottom.
If air drying is insufficient, use a dry towel and hair dryer for deep cleaning. With hot air, it removes moisture from the furniture.
7. Use Different Methods for Different Materials
These days furniture is made using different materials, including aluminum, textile, artificial fiber, and ticker. However, each material has its unique properties. Thus, it requires further treatment. Even too much sunlight can damage the shine of furniture and start fading.
8. Oil Furniture Regular
The furniture made from natural materials like wood and rattan requires regular oil to maintain its shape. Regular oiling will prevent it from drying and fading its glory. If your furniture is placed outside and facing extra sunlight, then wiping off furniture with boiled linseed oil provides extreme protection.
9. Vacuum out Dust and Debris
The furniture prepared from soft materials like plastic and teak does not need regular cleaning because it can wicker the material long term. Thus, to provide furniture with beautiful and longer life, offer them soft cleaning with a brush attachment. It saves the furniture from dirt accumulation and keeps it clean and strong.
Conclusion
These simple and easy maintenance steps will help you to maintain outdoor furniture. It keeps your furniture looking brand new and increases its lifetime. Outdoor furniture is a considerable investment, and it requires careful cleaning. If the outdoor furniture is beyond your cleaning scope, replace it with a new piece.