Why Your Business Needs Custom Software Development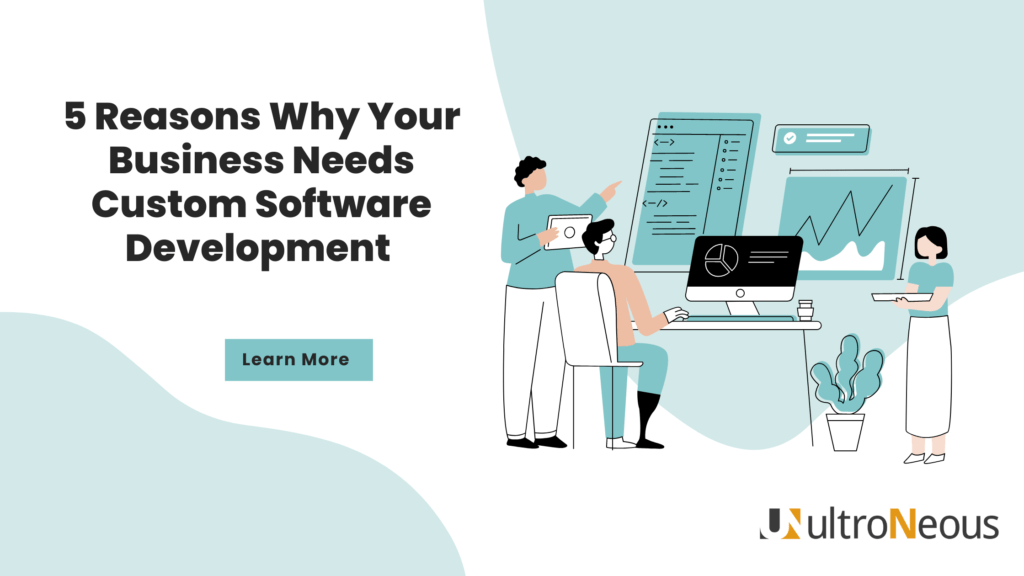 Software development services help companies solve challenges and operate more efficiently. In a competitive world, staying ahead requires more than a software solution that works for everyone. Developing custom software can help companies succeed and provide great customer experiences.
custom software application development is necessary, not just a passing trend. Grand View Research predicts that the demand for custom software will grow at a CAGR of 8.2% to 22.3% from 2022 to 2030. Tailored solutions are growing in popularity in the industry, as shown by this figure.
Customized solutions match a company's unique demands, alter how things function, and raise customer satisfaction. Don't be held down by the limitations of pre-made tools.
The user wants to study the fundamentals of customized software development, the differences between off-the-shelf software, and why organizations choose customized solutions.
Best 5 Reasons Why Your Business Needs a Custom Software Development Company
Why would an organization choose expensive customer software over the cheaper option?
There are five compelling reasons to do so.
Tailors the software to your needs
Let's think about Uber.
This firm did not consider calling a cab via your phone when it was founded. Existing business tools couldn't be used to create this new idea.
The two proprietors, Travis Kalanick and Garrett Camp had to use PHP to create a web-based solution for their specific requirements. It started from there. Uber's app is the gold standard that Lyft and other firms are trying to copy.
Custom software is not only for businesses with fresh ideas. It would benefit any company.
You will likely need specialized software for developing an app in the entertainment, healthcare, or transportation sectors. These niches offer specialized products and services that may require customization.
Using Custom software ensures system effectiveness. It ensures your privacy, security, and compliance. Hackers cannot exploit as many security flaws due to the seamless integration into your workflow.
The scale at your own pace
Off-the-shelf solutions are not usually fast or big enough for medium- to large-sized organizations. You'll always need specific software to develop your firm if you want to avoid severe constraints on your potential.
But Custom software can help you avoid these issues. It addresses the three key issues that prevent a firm from growing. Custom software can help you adapt your internal processes.
It will have tools to support your business's demands and processes. Your company can manage additional information and transactions that come with more clients.
Custom software can help streamline your process by handling difficult or repetitive operations. Studies show that most employees spend a significant portion of their day on tedious chores that are often unproductive.
Custom tools can perform these tasks. You and your team can focus on tasks that benefit your bottom line.
Seamless integration
Connecting all of your applications is vital for operating a successful company. Businesses rarely use just one piece of software. Studies show that the average organization uses around 254 SaaS applications.
Moving between them takes time and causes workers to lose attention, reducing staff performance. Moving data from one app to another can be challenging, making mistakes hard to avoid.
You have an online shop. You must deliver purchases from your website by hand to the appropriate offices, such as the warehouse and delivery department. Making an error during any of these procedures may jeopardize the sale.
A Custom order management system that connects all these operations will prevent this from happening. The money from purchases on your website is quickly transferred to other needed services.
This connection has advantages for your company. Connecting all of your ready-made applications is rarely achievable.
Exclusive ownership
Custom software allows you to own everything, which is nice. You can do everything you want with your software, including usage, modification, and sale to other firms. You don't have to purchase the software. The End User License Agreement (EULA) regulates how you can use something.
The EULA states that you cannot modify the program for your needs. Without the developer's permission, you cannot add it to your other platforms. Your company depends on what the off-the-shelf supplier does.
For example, if they suddenly change a product that your company relies on. You must modify your procedure to account for the change, which is inconvenient and hazardous. The person who made the program could stop you from using it.
SaaS platforms make it easy to terminate an account, or the service provider may go out of business suddenly. Custom software doesn't have these issues.
Saves money in the long term
Custom software costing a thousand dollars is cheaper than ready-made software costing a few hundred dollars. How can I simplify it?
Ready-made options are more useful because they cost less. If the plan fits your habits, changing it will cost you more money in the long run. Take the following case into account.
The program works well once it is up and running, and sometimes needs only small changes. It was designed for your business, so it makes sense. Ready-made answers often don't work immediately.
After training, changes and improvements are often necessary. Improvements and changes require time, work, and money.
You can't always fully change it to meet your goals. When all the hidden costs are added up, the price will be higher than the starting cost of ready-made software.
It doesn't consider the time required to make it work for you. Software made specifically for you doesn't have these problems. It can be a great option if done right. The purchase is great and can pay for itself multiple times. It also makes your business more productive.
Conclusion
Choosing the right IT staff augmentation partner is important for the project's success. Each component determines the best partnership, including professional abilities, experience, cultural compatibility, and communication aptitude.
Choosing a partner who understands your company's unique demands and aligns with your long-term objectives is critical.
UltraNeous is a company with all of these characteristics. We create unique software as a software development firm. We have experience and a crew.
They are a good choice for custom software application development because they focus on developing innovative solutions and have a positive reputation.