Of course, money is the one among the most important things in our life. Indeed, it is a medium to fulfill all our regular life necessities, but still it's not a solution for everything.
Especially inner peace and happiness. It can bring you all the materialist things that you need, but money can not make you happy alone. Similarly, no money is a problem, having money but not having the sense to use available money, also creates even more trouble, too.
So why money is not a direct definition of happiness and what are the top reasons why money doesn't make you happy in life. Read on, here are the main reason for the same.
1. It makes you happy for a very short time. 
The first and foremost reason why money doesn't make you fulfilled is because the satisfaction and happiness you get out of it is for the short term only.
In a very less time like a few days or within a day, you get back to your incomplete feeling and lack of some excitement in life.
As time passes you level of excitement, keep decreasing from the product you bought.
You don't feel the same any longer from any materialist things you buy from money, because the happiness out of it, just temporary.
2. Money is the root of all evil. 
Of course, you heard that many times and that's the fact of life.
All the major problems in word, money is the root of them all. From every battle to trade war between competing countries, everything is connected with money and finance at the end.
One's desire to have more money than others, brings the entire nation and world economy at risk.
That doesn't mean that money creates problems only, but those who follow any negative approach to collect it, end up creating more troubles for their surroundings, too.
Also read: Important Physical And Mental Symptoms of Anxiety Disorder
3. You always let your desires win over you. 
When you aim to collect more and more money in life, you often choose the wrong path in life. That especially happens when you're in your early developing stage like in your 20s where you start to experience some real-life lessons.
Well, if you seek the right support in life then consider referring to some blogs about life lessons that give you access to learn from someone else' experiences and journey they have along.
Generally, we all you want is to get instant success and that amount of money with you. When it comes to money, more people are impatient and hate waiting or putting the hard work required.
Instant fame and fast money and people tend to follow the wrong route that ends up creating lifetime trouble to their self-image and principles in life.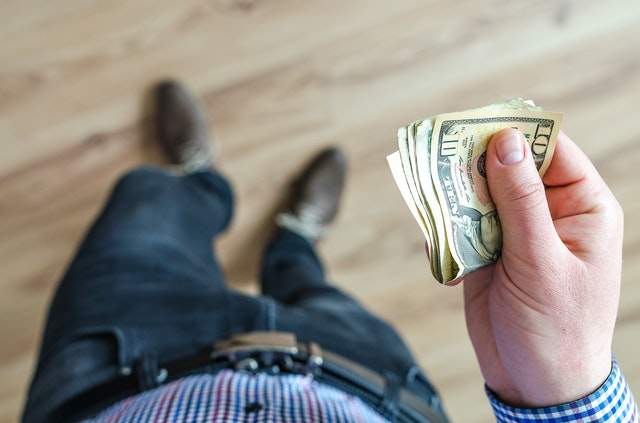 4. More money is not equal to more happiness. 
People assume that if they have more money they will be happy. When they have money they will do everything that makes them feel fulfilled in life and so on.
Instead of taking money as a medium to buy things, most people take it as a way to be happy in life. But the fact is no one is truly satisfied and happy in life, even after having a desired money.
Even the rich have a desire to have more and more money. Results, they fail at enjoying the best use of available money and seek happiness for life.
5. Money damages plus changes feelings. 
Every relationship has to be driven by personal connection and feeling for each other. When the money elements come in their relationship, the troubles start from that day.
Most of the friendships and relationships have been negatively affected and even destroyed, only because of the money only.
6. We always want more money. 
It doesn't matter if you have enough money to fulfill your daily requirements or not, or if you are rich with full on properties and money in the back, you never feel satisfied by any means.
Because there are no limits to money desires. It constantly increases as you reach a certain level. We all want more and more money, we just never stop chasing money in our life. That's the reality.
7. We all are interested to earn money and not to spend it, better. 
With that mean, we don't say that you are miser or you have to spend all earned money anyway.
Of course, saving and keeping some money aside is perfectly fine and acceptable for the future.
But, trouble starts when we only aim to collect money rather than spending it. We spend our day and night earning that money, but when it comes to spending it like traveling or educating, we complain that we don't have time and so on.
We just can't free ourselves from this chain and can actually do something that truly makes us happy and fulfilled in life.
Also read: A Stress-Free Move: Hacks You Must Know!
8 Money puts pressure and does not motivate you always. 
If you think that you are passionate about your goals of having more money then probably you are wrong there.
Ask yourself, do you really think that having that target money will make you feel happy about you, Is it truly leveling up your life or not. If you are feeling hard to answer that then believe it's not your goals, but a pressure that you carry.
Either from the society standards or from your presenting your own status, you are taking pressure on yourself to look better in society and nothing else.
Final thoughts
Well, with these points, we are not saying that money is the only reason to live an incomplete and stressful life.
It indeed is a better medium to live your life in a better position. It supports us and our family to have all necessities that we must have to live a happy life.
But, simply taking money as a way to feel happy and fulfilled in life, is not a good option by any means. You can be happy with enough money when your approach to life is simple and confident.
And, on the other side you will find those who are living unhappy and stressful lives, even having more money.
Overall, it's all about your priorities and perspective in life and money. You don't only need money to feel happy in life. Family, love, respect, care, memories, travelling and there are so many things that can make you happy in life.
So next time you get a chance to be happy, make sure you don't measure it with the money only.