How Online Payment Gateway In Education Institute Saving Time For Better Results?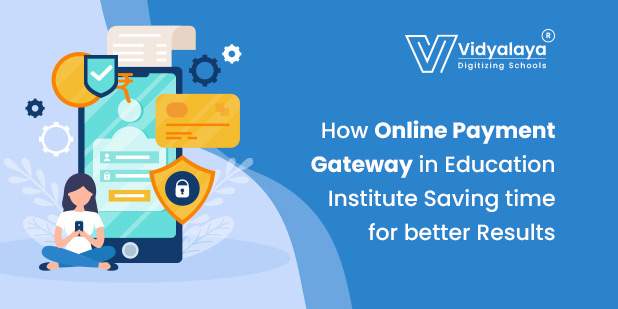 Online payment transactions, online payments are no more buzz words as the almost entire world has become habitual of these processes. The education industry was lagging behind to adopt the phenomenon for their daily transactions. Now, after understanding the importance and benefits of online transactions through the online payment gateway, it has become a word of mouth for schools too. Almost all educational software includes fee payment and payroll modules. These are the two core modules that deal with financial transactions.
The legacy systems have pain points like:
Paper-based transactions that can have human-intervention errors.
Manual reconciliation of payment collected from parents with the bank statements.
Risk of money lost, damage, over payment, lower payment due to human errors.
No proper visibility of funds that can lead to fraud.
Poor user experience in the entire process.
There is a need for a capable and state-of-the-art payment collection system that will overcome all these flaws. If reports are to be believed, the global payment gateway market is expected to reach $50 billion by 2025. So, your educational institute must take the necessary steps to match this wave. If you are still hesitating to implement this on your campus, then this article is the perfect destination for you.
What is a payment gateway?
A payment gateway is a merchant service that is used when the user performs direct payments processing or uses credit cards to pay during financial transactions. The gateway authorizes the transactions. In the educational institute context, if parents are opting for online fee payment, the payment gateway integration embedded in the school management software will help to authorize and coordinate the transaction. First, the fee transferred is not directly deposited into the school bank account, instead, it goes into a third-party company that accepts payment from parents' card/bank and informs the school management app that payment is received. Then after some hours, the school account is deposited with the money from the company's account.
You don't have to deal with all these technical aspects of high-performing players like Vidyalaya is there. Vidyalaya is a software that is a perfect blend of advanced technology and high-quality content. Let this article will tell you how a payment gateway can save your time and offer the best results.
No more common issues during financial transactions
Schools generally accept fees in form of cash/cheques/DDs. All these forms can take lots of time and includes a lot of human intervention. Parents spend hours in standing queues to pay the fees. It is a complete loss of time, resources for both school staff and parents. To avoid this, Vidyalaya facilitates the parents with the feature of school fees payment online such that they can pay the fees by sitting in their comfort zone anytime.
Also, the online payment overcomes the common issues that otherwise may happen during manual methods like cheque non-clearance, cash handling risks.
Diverse modes of payments
In the manual mode of financial transactions, money is handled through limited modes like cash/demand drafts/cheques. But, understanding the limitations of these modes, Vidyalaya offers you a new-age payment gateway integration such that the money can be collected in either any mode of credit or debit cards, net baking, UPIs, or different online wallets. As these are the new ways of transactions, if you want to make your educational institute match the new-age song, then payment gateway integration is a must for you.
A quick and steady cashflow
The cash flow using an online payment gateway is steady and better than that of cheques or demand drafts. With the help of Vidyalaya software, financial transactions can be accomplished quickly and can deposit the money within one day to the concerned bank account. This can lead to a steady cash flow that can fund the other progressive tasks. Educational institutes can feel a relaxing experience due to this steady cash flow.
Online fee collection without any hassle
Every time school administrators need to send reminders to the parents for the fee payment. Vidyalaya is the school software payment gateway integration that sends reminders for fee payment. Also, the software is featured such that it can handle any type of payment collection other than fees like brochures or event fees.
Instant notification to the parents
You must have seen a long queue for collecting the fee receipts or delays in transactions to prepare and hand over the receipts to the students/parents. This scene can vanish if your educational campus is equipped with Vidyalaya's online fees payment system. This system has an embedded payment gateway that will perform the fee collection transactions rapidly and will generate a system-generated receipt for fee collection. This receipt is sent automatically to the relevant parent in the form of SMS, app notification, email. Now, with this feature, parents are no longer need to communicate with the school for fees receipt. The digital copy of the receipt reduces the risk of handling.
Efficient reporting at your fingertips
School higher management needs various reports to make efficient decisions. Vidyalaya's online school fee collection system will provide you instant reports within few clicks. They can also provide an enriched dashboard where all financial transactions can be displayed. The records can be fetched within less time based on time criteria like monthly, weekly, yearly. If you want data in graphical form, Vidyalaya can offer you that also. Any failed transactions are also displayed that can help you to keep the track of them.
Making all financial transactions digitally is the need of the hour and if you are still believing in the manual way of doing money transactions, you need to update with the time. Vidyalaya, being a leading educational software provider successfully carried away the payment gateway integration and facilitates your schools to match the steps with time. Forget the era of long-stranded queues in front of the school office for fee payment, instead, let parents take a relaxing breath by paying fees online. Also, facilitate your staff to do transactions with ease and feel a smooth working experience. Vidyalaya bounds you to deliver a dedicated and thoughtfully designed educational institute that can support your digital transformation mission.