How To Develop An App Like Amazon: Features & Cost
The eCommerce industry is booming in 2021. Check out the features & cost to develop an App like Amazon and succeed in the eCommerce industry.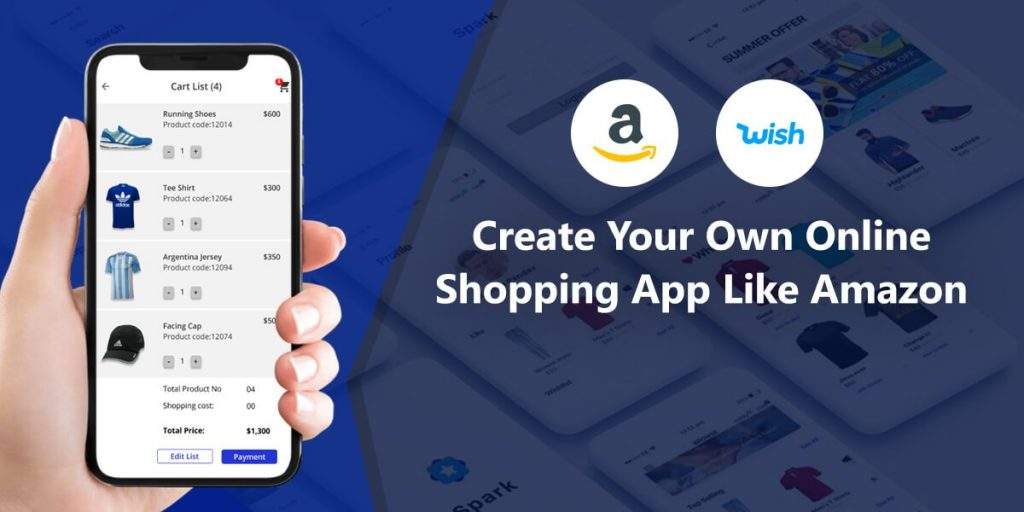 Are you a business owner or an entrepreneur that is impressed with Amazon App? Do you feel it would be great if you own a marketplace?
Do not worry! It is about time to develop an App like Amazon. Amazon has elevated the online shopping experience and is raising the bar every day in the online marketplace industry.
Starting from the modern-day tech features to the revenue it generates, Amazon is an inspiration. Also, many start-ups and entrepreneurs are now willing to invest in eCommerce Mobile and Web Apps.
In 2021, the marketplace industry is booming and has opened countless opportunities to leverage and scale up your business. It is well known that eCommerce Apps like Amazon increase reach and conversions. Thus if you are looking out to develop an app like Amazon easily and quickly, read further. If you are looking out to develop an app like Amazon easily and quickly, read further.
eCommerce App Development
Building an app like Amazon is easy. But, choosing the right company to develop your app is challenging. Thus, below are a few criteria for selecting the best eCommerce app development company.
UI/UX Designing Standards
Creating the best functional design and user experience is also important while developing an app. So, it is a must to check the designing standards of the company you choose to build your Amazon-like App.
Customer Reviews & Client Feedback
You receive the most genuine feedback only from the past customers and clients of the App Development Company. If you follow the process rightly, you can identify the best company for your app development.
On-time Delivery Management
A project is successful only if it is delivered on time. Check the portfolio and get reviews from past clients regarding delivery management. This will help you figure out the company you have chosen to deliver the fully completed project on budget and on time.
NDA – Non Disclosure Agreement
Most business owners worry if their business ideas will leak on submission to app development companies for cost estimation. Thus, select a company that offers NDA to maintain confidentiality in the App ideas.
Quality Testing and Trusted QA
Customers use your app only if it is bug-free. For an app to be bug-free, you have to rely on a team that does exceptional quality testing. Also, only trusted QA deploy apps without any errors.
Must-have Features in an App like Amazon
In an App like Amazon, there are three different panels. And, each panel will have various supporting features that help the app to work rightly. Below are the panels and the features you must have in your Amazon-like App.
Must-have Features of eCommerce App for Users
eCommerce apps for users must have interactive features that are user-friendly. Below is a list that must be integrated into the user panel of your eCommerce app.
Signup/ Social login
Product listing with custom filters
Favourites listing
Ratings & reviews
Payment gateway
Checkout page
Order and delivery status
Order history
User profile
My cart
Must-have Features of eCommerce App for Sellers
The features in the seller's app/panel must support all the features a seller wants. Thus, it must have features starting from order management to return management.
Signup/ Social login
Order management
Product management
Inventory management
Offers & discounts
Reports & analytics
Return management
Payment
Must-have Features of eCommerce App for Admin
The admin has the overall control of the app. Thus, all the features must revolve around management and reports.
User management
Seller management
Product management
Logistics management
Category management
Feedback & customer support
Reports & analytics
Payment & refund management
Commission management
Cost to Develop an App like Amazon
Three components control the cost of developing an eCommerce app like Amazon. They are as follows;
Wireframe
Design
Development
Apart from this, your custom features also play a vital part. Also, the country and development company you choose determines your app cost. Thus choose companies from an outsourcing country like India, where the price is affordable than other countries.
Wrapping Up
As we discussed earlier, developing an eCommerce app is easy. However, choosing the right app development company is challenging. Now you have known how to develop features to integrate and cost, start your development instantly.
The eCommerce industry is growing rapidly in 2021. Thus, it is on you to start building your eCommerce app like Amazon and compete in the market strongly.