Why Are LED Video Walls Ideal For Conference Room?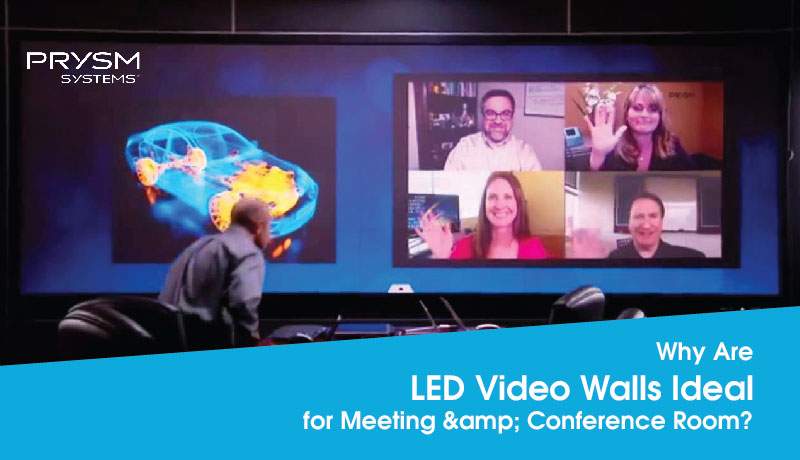 There are several factors to look at when to make an ideal conference or meeting room. But, the most important factor that can't be missed anyway is the LED video wall display. After all, with this, you can establish a connection with your teammates. In this blog, we will discuss why organizations love to have video walls as one of their essential assets.
The equipment quality in a conference or meeting room is something that can make or break discussion or an important meeting. Big organizations often spend a huge amount to ensure the impeccable and finest quality of LED while conducting any official meetings. In this digital era, when the performance of led video walls really matters, it becomes essential to go for durable and excellent video walls. Thinking why LED video walls are preferable always? Well, here are some of the reasons. Have a look!
LED Video Wall Best for Communication
LED displays empowers you to deliver your message more efficiently. With video wall arrangements you can easily target your audience, team workers, senior officials, etc. From conveying the message to enhancing the ambiance, it will not let you down in any case. You can say, it's an ideal supplement to any meeting room, conference room, lobby, retail location or any other exert applications.
Though, video wall solutions are generally critical in the case of a network or control room. But, you can avail yourself of the best solutions if you are buying LED displays from a reliable online store.
Another reason why an LED video wall is used in a meeting or conference technologies room is, it brings the event or information to each person sitting in a place.
Display quality is unbeatable
For a small conference or meeting room, the obvious choice is to have an LED or LCD since the natural light is not an issue. But, when it comes to large meeting rooms, traditional front project screens reject the coming light in the room. Due to this, images are washed out and can create eye strain on the viewers. It may become difficult for the audience to concentrate on the screen for long hours. Hence, it is advisable to choose the best quality LED displays as per the room and ambient condition.
Vivid Colours
Nobody is interested to see washed colors or seeing pink when it is red. Vivid and accurate colors must be seen in a bright room especially when big rank holders are sitting together. LED Display makes sure you are choosing a display that can give you sharper images, brighter and richer colors, and blacker blacks.
Touch Facility is available
Depending upon corporate and business culture, a touch display can bring benefits to your communication. Not to say, a touch display invites more interaction and collaboration among the attendees. Thanks to modern technology, the security operations center offer you un-matchable facilities that are often missed in any ordinary displays. Also, it won't charge you high as it's reasonable in prices.
Internet Connectivity & Videoconferencing
It has been reported that about one-third of meetings, displays require cluttered cables everywhere for longer connectivity. Well, this problem can be avoided with LED video wall displays. You not only achieve a better internet connection but also make sure that your video conferencing doesn't stop anywhere in between.
We all know that meetings are being held remotely. In fact, the unprecedented situation of corona virus welcomes more and more online meetings. Video conferencing is the best way to address a wider audience in a short time. Suppose, you want to avoid a situation where twenty people occupy their seats. In that condition also, your laptop will be the only audio source. Similarly, you require video conference tools to accomplish all your requirements.
Swift installation & Easy Maintenance
When frequent meetings are held, there is less time for maintenance. LED video wall displays not only ensure to have swift installation but also easy to maintain. Designed for accessibility, many firms come with front maintenance to avoid any kind of disassembly cost. Also, the fast lock design with an adjustable lock takes a single person for installation. It means no big manpower is required for installing LED video walls.
Get Advice and Support from Professionals!
We hope the above-discussed points are enough to explain why you can't miss out on LED video wall displays at your meeting or conference rooms. Now, you must have a question about where to avail of the best quality LED displays and unified communications? Well, Prysm Systems is a one-stop destination, where you can get all your answers to technical queries.
Even if you need help in calculating the size of the screen, viewing angles, projector brightness, or any general advice, then our certified and experienced professionals are there to resolve your concerns. We know how to make up all necessary calculations to give the best-LED solutions to your organization. Adding to that, we make sure that you will access the latest & best technology which is compatible with current equipment. If you still have any questions in your mind, visit our website & contact our professionals today only!