Find Top 4 Ways To Customize Design Pin Buttons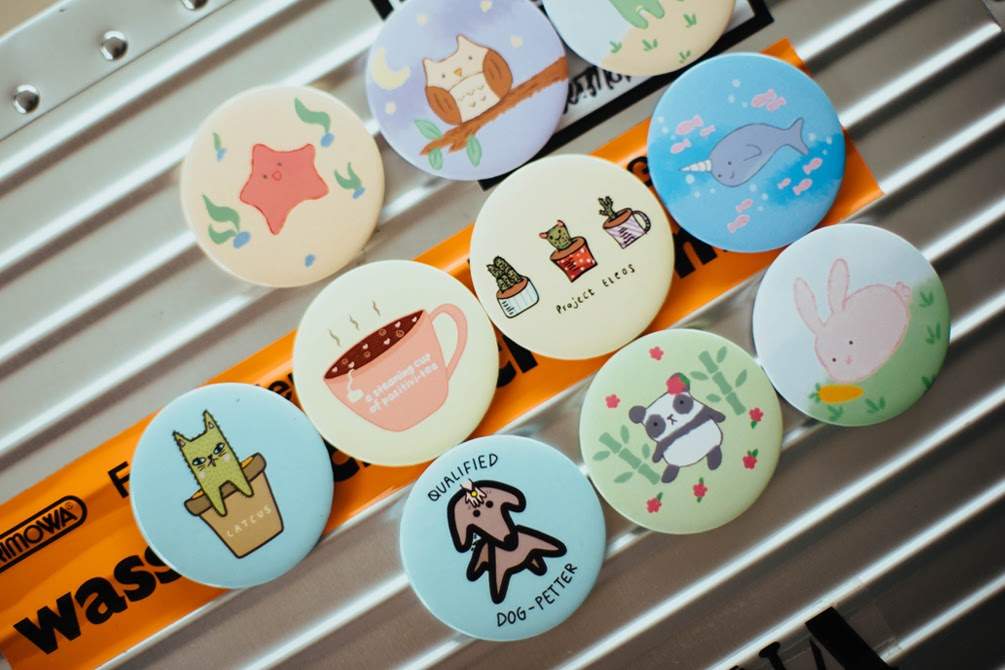 Buttons are the simplest way to get your message across. Whether you are promoting your business or raising funds for a social cause, pin buttons can always be your companion in style.
Back in the 90, they were mostly associated with election campaigns and politics. However, today they are great accessories for clothes, bags, and more.
Some use it to show they are fans of a show/brand. Others create custom buttons to represent the theme of the party.
But do you know there are different ways of designing it?
The trending one is to use an online button designer tool. So, if you want to know what the different ways are, keep reading! 
1. Use Photoshop or Illustrator
The most common medium to design the buttons is to use Photoshop or Illustrator. They help create custom buttons. You can even download the templates online in case you want to simplify your designing process.
However, you would need a basic knowledge of the tools. They are highly tech-driven solutions and require experience.
For example, you should know about layer features. Only when you know how to use it, you will be able to add layers and effects to the button design.
Other than this, a basic knowledge of elements like Elliptical Marquee Tool, Gradient Tool, Reflected Gradient Type, and Paint Bucket Tool is necessary.
So, go through the videos, try a few designs, and you are ready to go.
Here is a short tutorial on creating custom button designs in Photoshop.
Create a new image and a layer using an Elliptical Marquee Tool.
Next, drag the circular marquee with a shift key and create a proper circle.
Fill the circle with color using the Paint Bucket Tool.
Change the foreground color and set the gradient type in the Gradient Tool.
Select the Reflected Gradient Type, and partition the sections into layers.
On a new layer, add your text. You can also adjust its color, size, and font accordingly.
This is how you can design in Photoshop.
2. Button Design Tool
What if you want to provide customers the freedom to create their own custom button designs?
You can't add Photoshop, but you can create your designs online. Many design tools allow customizing designs. The factor that makes one a must-try option is easy-to-use. Yes, unlike Photoshop that requires knowledge, these tools don't require expertise. Your customers can freely use it to design their buttons. It's even simpler than a paint tool.
Apart from this, the online button designer tool provides a wide range of clipart, colors, texts, visuals, and more.
Last but not least, the designer tool is ready-to-use. It means you can easily integrate it with your eCommerce store.
3. Hand-Draw your Button Design
A designer tool is a good option. But, if you don't want to go for it, hand drawing is not outdated.
If you're good at drawing, by all means, bring your pencils, markers, and paints out.
Take a paper and draw a circle. Embellish it as much as you want. Start with the background and then the foreground. Use your creative skills and pour every ounce of creativity on the paper.
When you're done designing it, cut the circle and scan the designs. Reprint it on paper and place it in snap-in button casings.
You can buy snap-in button casings at local stores or online.
4. Hire a Professional Designer
If you don't have time to design buttons or are unsure about your creativity, you can always go for a professional designer.
Hiring professionals ensure that the designs are visually appealing. Besides, they know how to make it more creative and relevant to the purpose. To receive this, all you need to do is share your ideas and requirements with the expert. They'll then get it done for you.
However, visual graphic designers might cost you a lot. They may ask for a commission for design work as per their time and efforts. So, inquire about it before you hire them.
Conclusion
Custom button designing has evolved a lot since 1896. The days where you had one option to design buttons are gone. Now, businesses can use different ways to design pin buttons. They can opt for an online button design tool or a hand-made one. It only opens up doors for offering unique offerings in your store, but also gives you a chance to stand out as a market leader! Plus users are getting what they love, so a big jackpot! If you like the idea, all you need to do is analyze your business and choose great tools including button design tools, apps, and more to emerge as a winner!