The Top 7 Virtual Event Platforms To Try Now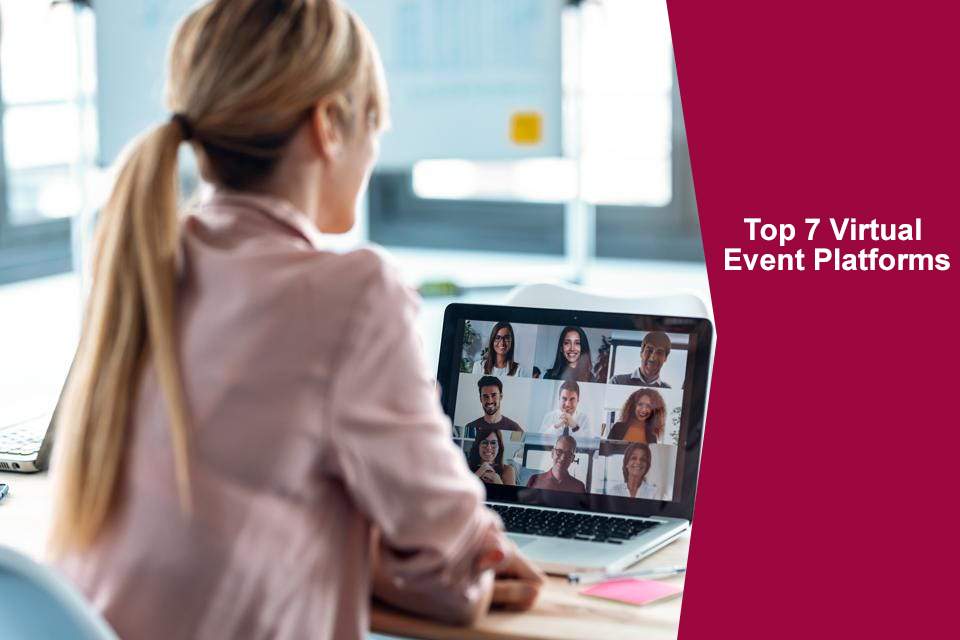 Incidence of virtual events gone up by as much as 1000% in the past year. It's no surprise that virtual event platforms are in great demand.
From virtual trade shows, to virtual exhibitions, to virtual get togethers, & virtual meetings, virtual events are all around us.
Naturally, some of these virtual events hold the flag for being exemplary . Virtual events for the other event marketers & event managers take inspiration from these.
Most of these virtual events have good planning, good strategy, & good marketing behind them. A good & efficient virtual event platform is also very important for a successful virtual event.
There are a ton of virtual event platforms to choose from at the moment. Deciding which one suits your needs & requirements the best is a real challenge.
The choice of the virtual event platform can effectively decide the fate of your virtual event. Hence, it is really important to make the right, informed choice.
In this article, we bring to you the top 7 Virtual Event Platforms. You should definitely keep in mind these for your next virtual event.
1. Mixhubb
Mixhubb is a new, innovative, & interactive Virtual Event Platform. It gives the event planners & organizers complete power to design their event their own way.
It offers designing customized booths, auditoriums, registration kiosks, & lobby, to an easy-to-setup & use intuitive backend. Mixhubb offers the full ability to event designers to take control of their event.
With interactive features like:
Live chats
Live polling
Q&A features
AI matchmaking
Emoticon integration
Document sharing & download options
Easy attendee management & access control options,
Among other features, Mixhubb offers event organizers the complete package when it comes to a virtual event platform. It has the ability to help them design, manage, & host their virtual event just how they want to.
Mixhubb also takes your security seriously. It is an ISO 27001 certified platform with complete adherence to GDPR rules.
With Mixhubb, you can easily provide your attendees with interactive & engaging features like:
Direct 1:1 video conferencing
Live chat
AI matchmaking
Briefcase, that helps them view all the upcoming sessions. It helps to bookmark their favorite ones, & get a notification when they're live
Networking tables where they can discuss something with other attendees
Host meetings with no time limit on them
React to sessions with the emojis of their choice
Raise their hand during sessions to get a chance to be invited up on stage & speak with all the other speakers
Have options to connect with booth organizers & the event organizers via live chat & 1:1 video conferencing
And so much more!
With Mixhubb, you truly control how you create, design, & host your event. You have the power to brand & customize it just the way you want, & give your attendees an unmatched virtual event experience.
2. HeySummit
HeySummit is a virtual event platform that believes strongly in the power of knowledge & knowledge sharing.
With HeySummit, you can easily host a successful, engaging, & interactive virtual event with knowledge, idea, & concept sharing at its core.
HeySummit's virtual event platform empowers businesses, individuals, & small to medium sized organizations. It encourages them to share their ideas, knowledge, & visions with a global, large audience.
HeySummit's virtual event platform empowers event organizers to:
Manage all aspects of their virtual event
Create landing pages to market the event
Easily Onboard speakers
Sell tickets
Collect feedback from the attendees
Manage & run the whole event
With HeySummit, event organizers have the option to customize each session. It can be customized according to the likes & dislikes of their attendees.
They can design their virtual event by carefully stringing together various kinds of sessions. It is to keep their attendees interested & engaged throughout the virtual event.
HeySummit offers you various engagement tools like:
Panel discussions,
Workshops,
Q&A feature
Live streaming
Networking
All these tools along with others not in this list can either be used individually or in conjunction with other tools.
HeySummit also offers event organizers the ability to integrate other tools or platforms. They can integrate which they might already be using like Hopin & Zoom, etc.
This plug & play feature allows HeySummit to become a virtual event platform. It easily allows event organizers to utilize multiple tools & features within just one platform. It makes their job a lot easier.
3. BigMarker
BigMarker is a browser based virtual event platform that requires no downloads to plug in.
Owing to the ease of access & login it provides attendees with, BigMarker is a top choice of virtual event platform & webinar service provider for many event organizers & corporations.
If you're looking to create, distribute, & build traction with live, on-demand, & automated content, then BigMarker is the perfect virtual event platform for you.
This flexibility provides event organizers with the choice to either host their events on the all-in-one platform offered by BigMarker, or utilize the embed options therein to directly integrate engaging & interactive features like lead forms, live polls, Q&As, & offers.
And if you also need to live stream your webinar or virtual event sessions on other apps, then you can also easily do that with BigMarker's virtual event platform.
4. Hopin
The discussion about virtual event platforms is incomplete without the mention of Hopin.
Perhaps the best thing about Hopin's virtual event platform is that it provides multiple virtual interaction areas to attendees which are by-default optimized for facilitating connections & engagement amongst those attending.
Hopin provides attendees with a lifelike, interactive virtual experience where they can connect & network with other attendees, & move in or out of rooms just like they would in a physical, in-person event.
This almost real-life experience helps Hopin to make claims they can back up including higher audience retention rates, high show-up rates, low drop-off rates, & increased attendee satisfaction.
Hopin allows your attendees to easily navigate an exhibition floor, all the while they are meeting & networking with other attendees, attending & dropping out of various keynote sessions, & roaming around & interacting with other attendees as much as they like, just like in a physical event.
Hopin has a simple, user-friendly interface which makes it easier for event organizers with practically no experience with coding to organize & host an event.
Infact, Hopin allows you to create a virtual event in just 3 simple steps:
Enter the event details
Create the schedule
That's it, go live!
Once the event is live, Hopin allows you to easily manage the various aspects of the event itself including registration flow, email marketing tools, along with customized branding options throughout the entire event.
All this combined can easily help you see why Hopin is considered to be by far the best virtual event platform there is.
5. vFairs
It is a virtual event platform that helps event organizers to create, design, & manage their virtual events, conferences, trade shows, job fairs, & so much more.
vFairs's design is inspired by an exhibition hall model, thus its interface gives the attendees the look & feel of a physical, real life event.
Loaded with many lucrative & engaging features, vFairs brands itself as a one-stop solution for virtual events, hybrid events, virtual trade shows, virtual job fairs, etc.
vFairs's virtual event platform provides users with extensive customization & integration to make every virtual event a success & to give your attendees an immaculate virtual experience like no other.
With vFairs, you can host both live & semi-live webinars, create exemplary 3D designs, & customize your virtual event to such a degree that it is easier for your attendees to be part of a unique, captivating, & memorable virtual event experience.
vFairs's virtual event interface is also quite easy to use thus making it easier for event organizers to create & design their own events, & also for attendees to easily navigate through the event & jump in & out of sessions & activities.
Its colourful, immersive event environment also helps your attendees to confidently roam about, network with other attendees, & marvel at the event experience you're providing them.
vFairs also allows you to represent your attendees in various ways by interactive avatars across multiple races, ethnicities, & body types.
6. SpotMe
SpotMe is a virtual event platform that provides so much more than just a virtual event platform, rather it provides your attendees with an immersive virtual experience.
It allows event organizers to host both live & on-demand events, with a host of interactive, mobile-friendly, personalized tools & features that your attendees are absolutely bound to love.
With engagement features like gamification and breakout rooms for attendee networking, SpotMe's built-in tools ensure that your attendees have an enriching & fulfilling event experience.
One of the most interactive ways SpotMe does this is through their 'Activity Feed' feature, that turns your audience into an engaging community by empowering speakers, hosts, & attendees to create, & share posts, photos, videos, or comment on any existing conversation threads in the community.
This helps give the entire event a life-like experience with the impression of actual, real-life people around yourself.
7. Remo
Remo is an interactive virtual event platform that helps make easy, life-like attendee interactions possible in a virtual environment.
It does this with the help of its visual, top-down view, & 2D map, that comprises multiple interactive rooms.
Attendees in any of these 'interaction' rooms can easily network with other attendees via live chat, audio, & video features provided by Remo's interactive virtual event platform.
Remo also has what is called networking tables, where each 'table' consists of 19 tables with 6 seats on each, that allows for upto 6 attendees to network with each other at the same time.
This networking table feature allows attendees to have more focused, driven discussions wherein each attendee has the opportunity & ample time to put forward their views about the topic being discussed.
When the number of attendees joining these networking tables reach beyond 100, more interactive floors are created to accommodate them.
At the heart of Remo's interactive features is real human connection that enables the virtual event platform to emulate real-life, physical events & interactions. These networking tables also don't hamper the flow of the event, as whenever a session starts or is about to start shortly, the networking tables are suspended so that attendees can attend the session(s) seriously.