Top Reasons Why You Need a Mobile App for Your Business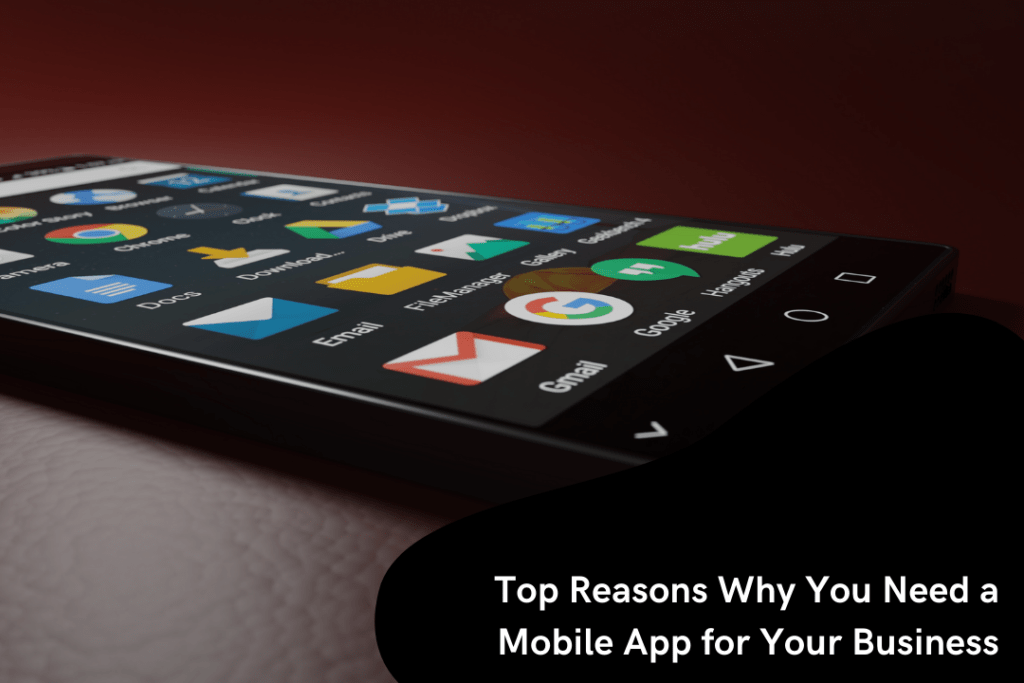 Mobile applications offer many advantages for businesses, including allowing consumers to access their accounts at any time, placing orders, and more. They can even be used to send push notifications to clients within a specific area. In addition, they can make it easy to attract new customers. And with the number of consumers using mobile devices increasing every day, the benefits of mobile apps go far beyond the benefits of a simple, customizable website.
Here Are The Top Reasons Why You Need a Mobile App for Your Business.
It allows your customers to give feedback
It helps you improvise
A mobile app offers an increased return on investment
You will expand your customer base
It can help you sell faster
You can get your business analytics more easily
It is a brilliant marketing tool
It gives your business a positive image
A mobile app makes it easier to promote your products
It will help you contact and engage with your customers
A mobile app makes it easier for consumers to provide feedback. This is an important benefit for businesses, as it allows them to learn more about their customers' preferences. After all, if the user experiences the app is easy to navigate, they will be more likely to buy the product. Moreover, mobile apps also allow companies to receive a volume of data about their customers, enabling them to make smarter decisions and increase ROI.
As mentioned, mobile apps help businesses reach a larger number of people. This is especially useful for small businesses. Whether your company is selling products online or offline, a mobile app can help you reach more potential customers. It can also help you expand your target audience by enabling you to offer different bonuses, such as coupons, or tutorials. With such a tool, you can get more customers than ever before!
An app is a great way to stay connected with customers. They provide a convenient way to contact you and can even make purchasing decisions for you. Another benefit of mobile apps is that you can reach millions of people, making your business stand out in a competitive industry. If your competitors are not offering an app, you can be the differentiator that they need. A mobile app is a great way to reach millions of people without compromising on the quality of your product.
A mobile app makes it easier for customers to buy your products and services. Unlike a website, mobile apps put you in the palm of your customers' hands. They are more likely to interact with you. And, a mobile app allows them to rate your products or services and review them. A mobile app is also convenient. It can help build a strong bond between your business and your customers.
Customers have more time to use your app. It makes it easier to stay connected to your customers, which is essential in the business world. It also provides the opportunity for you to increase customer satisfaction, which is inversely proportional to sales. That means a mobile application should be easy to download, as well as fast to be able to increase consumer loyalty. There are a few reasons why you need a mobile app.
One reason to develop a mobile app for your business is that it offers increased convenience for customers. This is an excellent way to get more customers and to boost sales. In addition to being more convenient, mobile apps can even improve customer service. By offering better customer service, a mobile app can improve customer satisfaction and retain current customers. It's an excellent way to get your name out there and make your business known to your audience.
Another major reason to have a mobile app for your business is that it makes your business visible to the world. This will increase your customer base and help you compete with bigger brands in your area. Since millennials spend most of their time on their smartphones, a mobile app will allow you to reach a wider range of consumers. A small business is likely to have a limited number of customers, but mobile app development can increase your customer base significantly.
Another reason to develop a mobile app for your business is that it increases brand recognition. Using a mobile app for your business will allow you to reach a wider audience. In a world where consumers are constantly using their phones, this is essential. By making your business accessible to a wider audience, you'll be able to drive more sales. But how can a mobile app benefit your customers?