6 Shades Of Pink for Bridal Lehenga for Your Wedding
Anyone can have their heart set on the color of Eve" pink" and what can be more flattering than having a perfect shade of pink color bridal lehenga for your wedding?
Pink , fuscia, magenta, rosewood, blush is soothing palette, reflecting love, charm and royalty. Are you confused about which shade of pink is trending now and will look the best on you? Don't worry, just like you; we have also got a soft spot for the charm of pink lehengas.
For your online wedding shopping we have listed the best-loved shades of pink in bridal fashion here. Scroll down and explore the splendid bridal lehengas from the exclusive collection of Vasansi Jaipur. Then, visit the best website to buy online your favorite pink lehenga online.
1. Rani Pink Bridal Lehenga
We can't stop swooning over this dark pink shade lehenga for brides. A warmer shade of pink and all-time favourite "rani" or magenta pink is colour for a complete traditional lehenga, one's for you. This shade of pink is an evergreen shade in bridal fashion.
Vasansi Jaipur has designed this lehenga with zardozi work on the raw silk fabric. The lehenga skirt is designed aesthetically with beautiful patterns and motifs. The meticulosity done etnriced work on the entire lehenga, choli, and double dupatta set is what make it our favourite pick..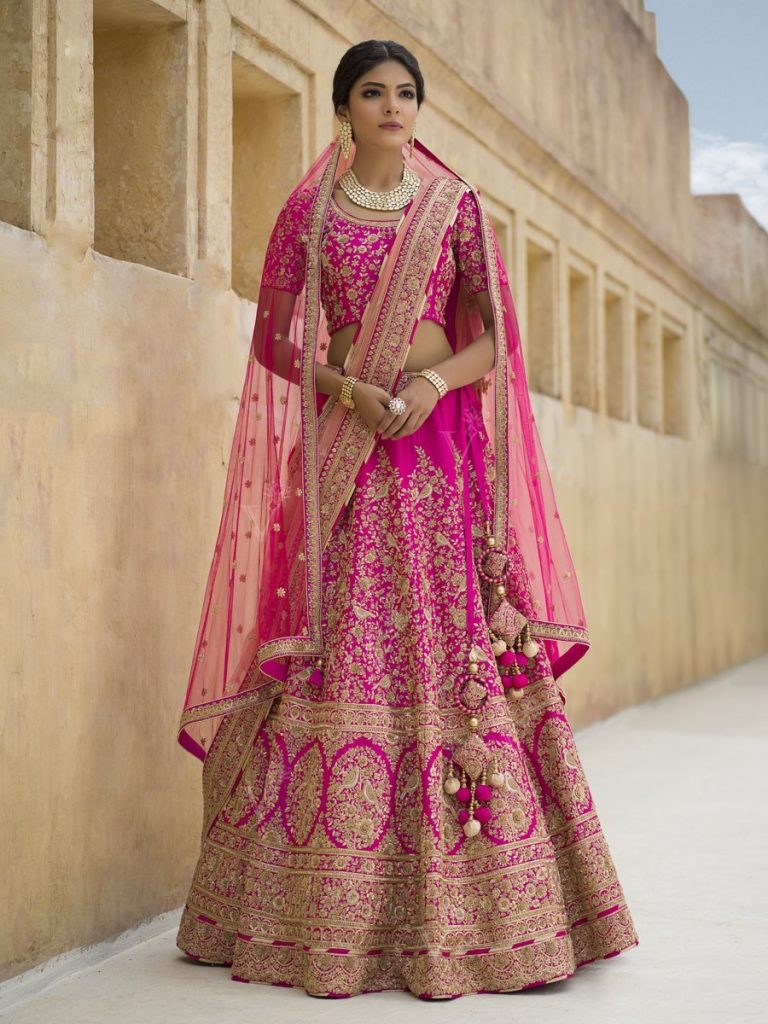 2. Fucsia Pink Lehenga
Fucsia pink is another one of the favourite colours of fashionista brides. So if you wish the cooler shade of pink, slay your bridal look in Fuscia pink lehenga for bride.
Shop this floral details lehenga online from Vasansi Jaipur for a winning bridal look. The flare of this lehenga skirt is majestic. Your outfit will show the happiness you feel when you twirl around in it. Moreover, the contrasting colour floral printed dupatta makes it even more unique from other Fushia pink lehengas.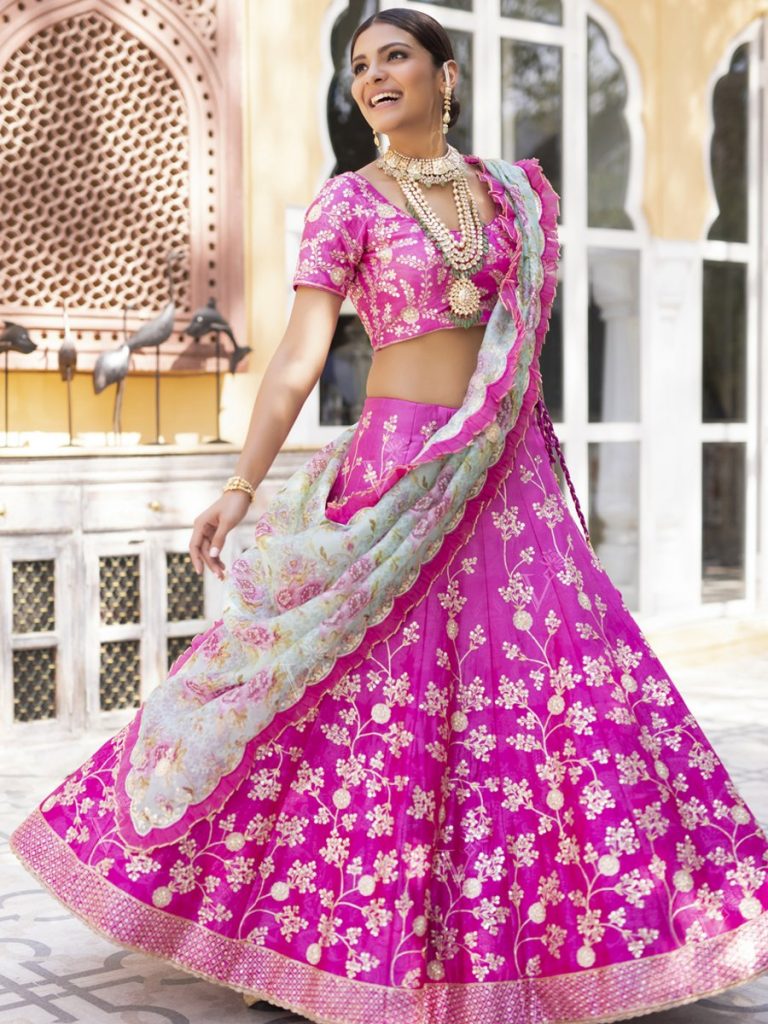 3. Light Pink Bridal Lehenga
The light tint of any hues looks pretty on every bride, but this light pink lehenga is just another level of style with simplicity. Wow!! everyone around you with your look in this light pink bridal lehenga.
It is the creation of Vasansi Jaipur. This lehenga set, designed with zardosi, resham, pearls and sequence work, is nothing less than a masterpiece. If you are looking for a voguish bridal lehenga yet something that feels comfortable wearing, this one is an apt choice for you.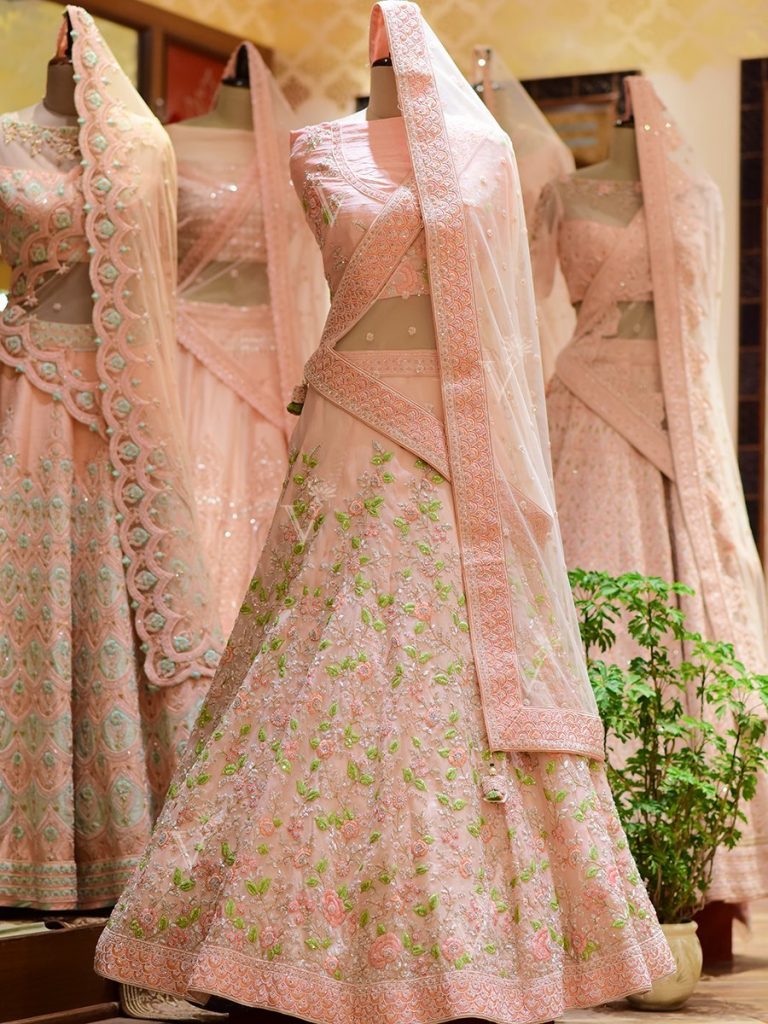 4. Peach Pink Lehenga for Brides
A complete showstopper like an outfit for any bride-to-be! It redefines poise with a different and radiant look. This peach pink lehenga for bride has an undeniably dreamy look.
The artisans of Vasansi Jaipur have added so many oomph factors to this peach pink bridal lehenga choli. The small hints of green and orange thread work in the middle of zardozi designs look refreshing.
Pair this with the best jewelry and complete your jaw-dropping look. Let everyone's heart skip a beat when they see you dressed in this gorgeous bridal lehenga.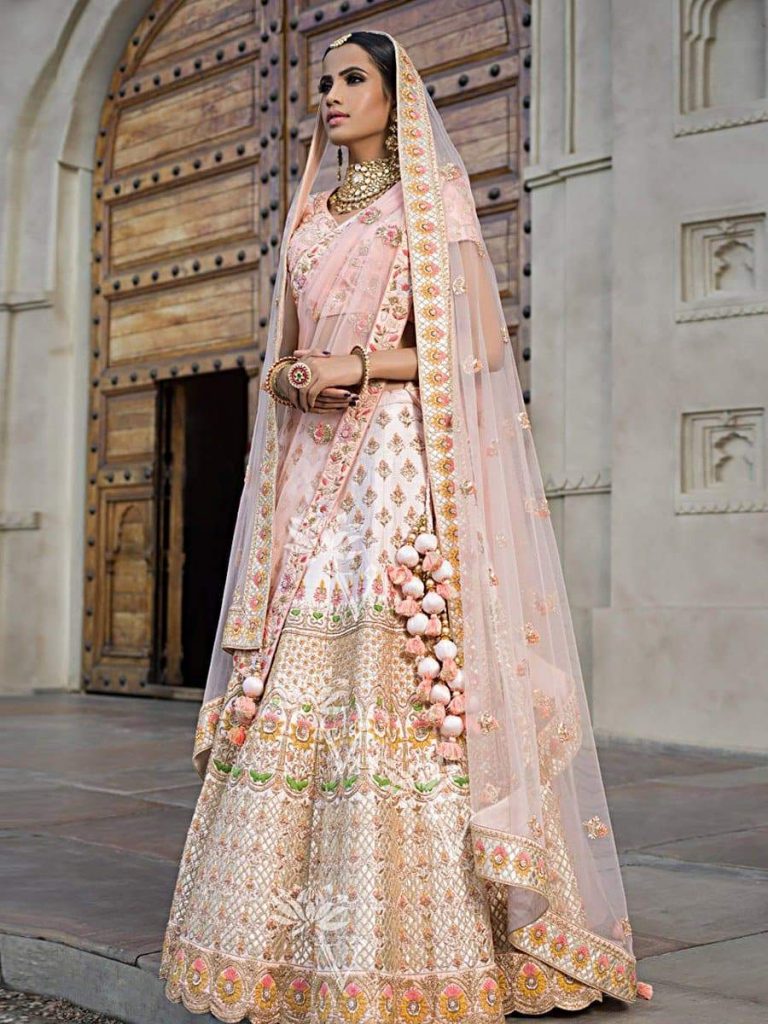 5. Hot Pink Lehenga Ensemble
This hot pink lehenga is truly love at first sight! How can anyone say no to hot pink colour lehenga when it's as gorgeous as this lehenga from Vasansi Jaipur. No matter how many new shades of pink come in bridal fashion, the hot pink colour is the hottest of all indeed.
Shop this pink bridal lehenga online from Vasansi Jaipur for your wedding day. It features the detailed handcraft work of sequence, resham, aari, and cut daana.
Add the crimson blush to your bridal makeup, and it will look like the hottest bride ever.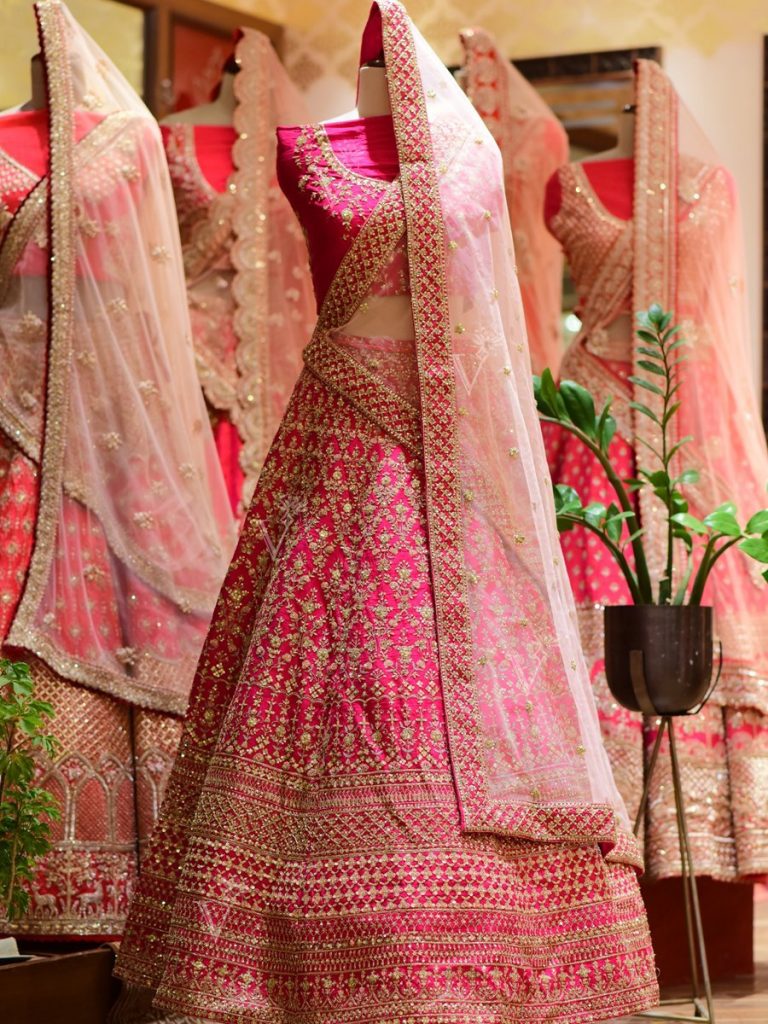 6. Powder Pink Lehenga Choli
Powder pink, a lighter shade of the pink colour, is winning the hearts of every bride-to-be. Like a breath of fresh air, powder pink colour has made its way amidst the sea of pinks. Try this offbeat lehenga ensemble if you are looking for fresh colours of the pink hue.
This lehenga from Vasansi Jaipur is made with georgette fabric. It is one of the most comfy fabric material for your all-day-long wedding festivities. Moreover, the lehenga highlights one of the finest handicrafts, i.e., the chikankari work. The simplistic look is great if you have an intimate wedding.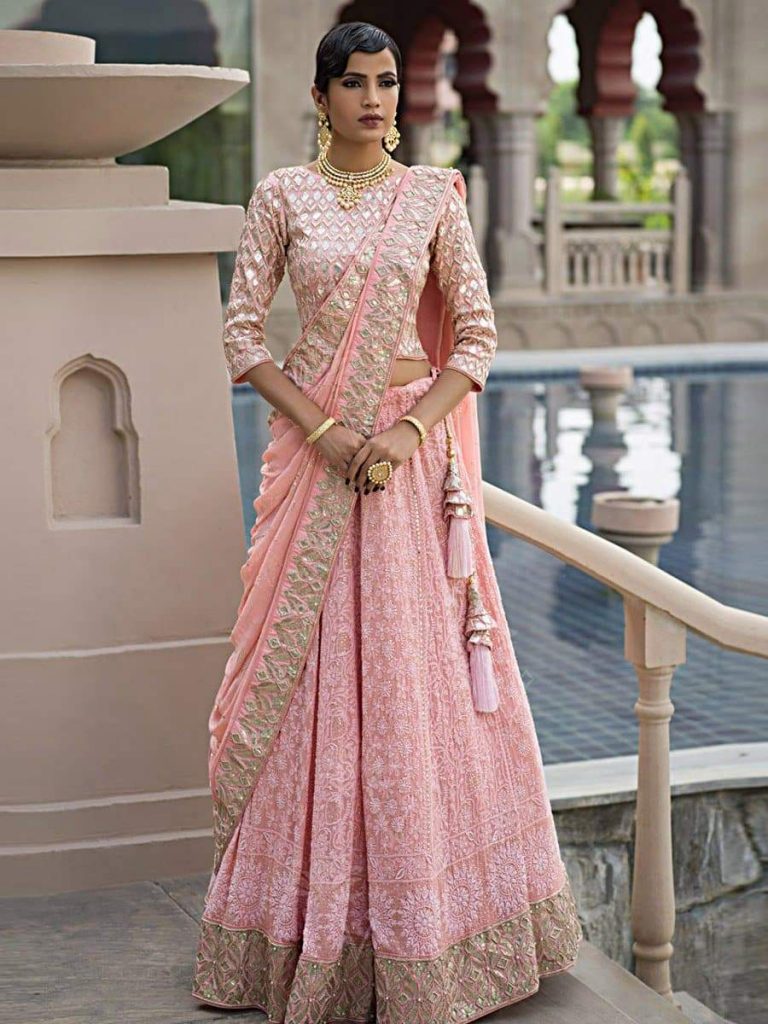 We hope that you have loved the round-up of the above wedding outfits. Tell us in the comments which one had you gushing over it.