My Most Memorable Journey To Ladakh From Bangalore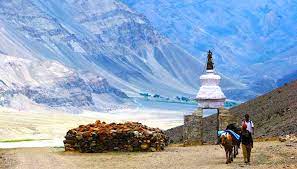 Road-trips are always on the bucket-lists of dreamers and for travel-enthusiasts, a bike trip to Ladakh is a big-time dream. After all who can deny the mountain's call and a bike trip, right!?
Why wait then? Just pack your bags, tie your laces and get ready to drive through the adventurous roads, hike to the steep mountains and walk through the scenic landscapes. Summers are considered the best time to visit these heavenly snow-capped mountains since the routes of both Srinagar and Manali opens around Mid-May.
How to Reach?
You can reach Leh through various travel options like flight, bus or by road. Mostly bikers get their bike shipped to Chandigarh or Delhi and then ride to Leh from there. You can also rent your bike from Delhi or Chandigarh at your convenience. Bike trip includes two most popular routes via Manali or Srinagar.
Cost to Visit Leh Ladakh :
The costings for a bike trip to Ladakh would approximately be around ₹35000 – ₹40,000. From Delhi, the fuel costs from ₹7000- ₹8000 for a one-way trip by bike. If you are planning for a bike trip from Mumbai, you can reach Mumbai from Bangalore via bus or train and the bike ride to Leh will cost you around ₹8,000 to ₹12,000.
Journey to Ladakh :
Our itinerary covered Ladakh in its true shining colors. Our weeklong journey allowed us to explore the two beautiful destinations Ladakh- Pangong Lake and Nubra Valley. The snow covered mountains with rugged valleys and beautiful lakes, barren lands, twisting roads and mystical Lamas have all created an aura of excellence. The prime and most talked about attraction in Ladakh is the Pangong Lake with its shining turquoise water among the mountains in this gorgeous and isolated land of Tibet. An overnight trip to Nubra Valley is what most people recommended me to do. The valley surprised me with its colors and texture. This thrilling journey to the land of calming reflections and surreal mountains discovering true beauty is an experience of a lifetime.
Along with these two places our 6 nights and 7 days Ladakh tour package encompassed various other things as well. Here's our tour itinerary for better understanding:
Day 1 – Leh
On arrival at Kushok Bakula airport in Leh located at the height of 3,500 meters, we got settled to our hotel which was a few kilometres away from the airport. We rested it out in order to acclimatize ourselves with the weather and temperature of Ladakh.
Day 2 – Leh – Alchi – Leh
All set for the bike trip, we drove towards the west of Leh in the morning to explore the miniature paintings of the beautiful Alchi Monastery. This place was founded in 990A.D and falls en-route the drive passing the confluence of Zanskar and Indus River at Nimu. While heading back to Leh, we also visited the Military Hall of Fame. We stayed overnight at our hotel in Leh.
Read this blog also:- https://www.newpagemedya.com/top-romantic-valentines-destination-of-india/
Day 3 – Leh – Nubra Valley
We left early morning towards Nubra Valley via the Khardungla Pass, the highest motorable pass in the world situated at a height of 18360 ft. After lunch we explored the Diskit and Hunder monastery and enjoyed the white sand dunes by taking the camel safari. Our bike trip was a great experience with double humped camels found only in Nubra Valley.
Later we stayed overnight at the Deluxe Camp/Hotel.
Day 4 – Driving back from Nubra to Leh
While driving back from Nubra to Leh we explored the Samstanling Monastery in the morning via Khardungla Pass. We also enjoyed the evening bazar of Leh where you can buy everything from cutlery, handicrafts to pearls and not to forget their famous Pashmina shawls.
Day 5 – Leh to Pangong Lake
We had scheduled a full day tour to Pangong Lake for our 5th day. The Pangong Lake is situated at a height of 4400 meters located around 135 kilometers from Leh. We passed through the Chang la pass and drove through the Tangtse and Durbuk villages built in the Changthang region of Ladakh. We explored the lake and it's surrounding in the afternoon with a tour to the local village to know more about its culture and heritage. We enjoyed our stay at a tented camp.
Day 6 – Pangong Lake to Leh
Our sixth day was meant for photo-session around the lake. We drove back to Leh post breakfast. On the way we opted to go and visit the Hemis Monastery which is located at a distance of 5 kilometers from Leh near Kharu. One of the largest and richest monasteries in Ladakh, Hemis is one of its kind. We reached Leh by afternoon and post lunch enjoyed shopping in the local markets.
Day 7 – Departure from Leh
Our journey to Leh and Ladakh came to an end as we departed to Kushok Bakula airport to catch our flight back home. There is so much to see and marvel in this beautiful heaven. I brought back lovely memories from my trip to Ladakh to cherish forever.