7 Powerful Tips to Improve Online Reputation Management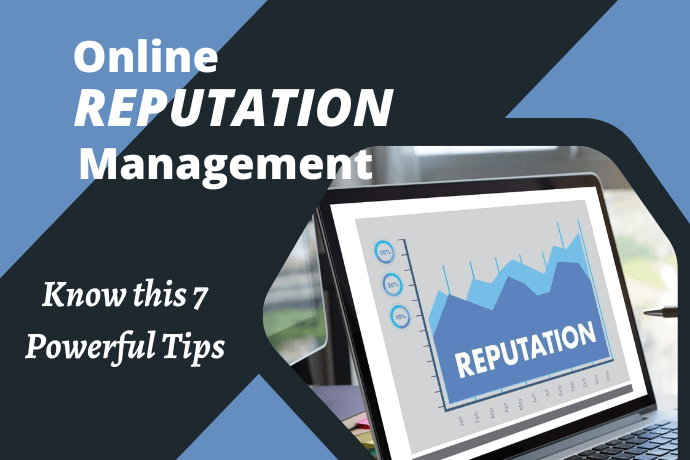 The key to improving your online reputation management quickly is to build trust and credibility through your webpage. Establishing and protecting the brand image in the same tie is vital in this scenario. Since customer service is the pillar behind the popularity of any brand, connecting with them through digital media will help in building the trust factor.
1. Keep Your Online Presence Monitored
Making an online presence is like setting the first impression on people. In the growing digital field, they will make sure to check the page first to get an overview. Hence you have to develop your web pages and website in a way that they'll be able to learn more about you.
You can also keep the contents in your webpage SEO optimized to favour the search engine and get a landing on the first SERP page. Suiting the reader's intent, in this case, is not the only aim but your content should also fall under the search engine radar.
Following are some tips to do so:
Use software like Google Search Console to get a detailed view of traffic, indexing status etc on your page.
Set Google Alerts which pings you every time your website gets mentioned.
Create hashtags, check how your site is faring on other social media websites etc.

2. Be Active on Social Media
Just having an online presence won't cater to this, you have to constantly keep framing it for their ease. In other ways, this will enable them to find you more easily and generate more traffic to your page. But, you should focus on creating content for social media.
Here's how this practice can enhance a quick boost your online reputation management.
Create accounts on several popular social media
Make polls and suggestions boxes creatively and frequently to raise the engagement bar
Reply to their comments more often
Be formal but make them feel valued
Go over the reviews regularly and try to incorporate suggestions
Keep updating posts as regularly as possible
Use these platforms to focus on your goals, values and what makes your brand unique.
3. Maintain transparency
In today's digital age, people will try to look for humane aspects in every brand or company they surpass. Hence it is crucial to remain true to your company's aspects and reflect its values. It is not necessary to uphold your brand in an ideal light to satisfy each and every consumer. Instead, the more you stay honest about the brand's qualities it'll attract the target consumers to boost your brand.
In the end, they will look for authenticity and trust factors and something that goes beyond just marketing. This will help you to find your ground and gain attention of potential consumers effortlessly.
4. Collaborate with Influencers
One of the crucial aspects of working with influencers is that they have gained the trust of the audience. Collaborating with them will reflect in increasing the credibility of your page and spread this trust factor. Following are the ways it can boost you:
It can lead to improving brand engagement between people
They bring a positive light on the brands because of their already established positive aspect
Their cooperation brings a personal touch
Big follower base helps in raising the engagement factor
Enables generating fresh content and reviews
However, the catch here is to go for influencers with bigger audiences because it shows that they have better trust factor and this will enhance leveling up your webpage. Also, make sure that the target audience of your brand also aligns with that of the chosen influencer.
5. Create High-quality SEO Optimized Content
Now that you know the possible aspects to satisfy user intent, keeping up with the search engine crawlers is also necessary for indexing your page. The key behind this is to SEO optimize it.
Blogging is a tool that helps in bridging closeness with the readers. Keep updating your blogs frequently to form a dedicated base of readers. Potential users look for experience and blogs are a gateway to uphold your expertise.
Engage in prolific conversation regarding this common field of interest and resolve any possible queries that they might have through the comment section. Know how to do it from the points below:
Start blogging for upholding your expertise in your field
Do relevant keyword research before composing high-quality blog, press release or guest posting and make sure that you incorporate it seamlessly
Try to include the keyword in the URL slug, at the beginning of the content, subhead, alt text and in the content body. However, avoid unnecessary keyword stuffing.
Use backlinks to your other web pages or relevant websites to establish authority
6. Keep Track of Competitor Websites
This trick is best when done manually rather than residing on soft wares. Brainstorm ideas by having a thorough look over your competitor's websites ranking first in the SERP chart. Look out for these points while you do so:
Check their tonality in social media marketing
The amount and kinds of reviews they receive and how they respond to these
What kind of content they are posting and how frequently
Their follower range in social platforms
How they are using the CTA tone and driving consumer sentiment
If they're giving any kind of online customer service
The types of content they are composing
7. Create an emotional bond
Whether digital or not, losing the humane aspect while marketing your brand might make it seem monotonous and robotic. Dig a little and share those stories of success and pitfalls of the products and services. Customers often feel attached to the authenticity and truthfulness that went behind the growth of a company or brand.
Hire professional SEO expert to write blogs based on compelling stories
Make the customers feel special by highlighting the service or product as if they're worth it
Surprise them with limited-time offers
Speak their language by using shots, gifs, quotes from movies, shows etc in your content
Give mysteriously enticing headings or meta tags to drive their curiosity.
It is clear from the points above that satisfying user intent is the base of online reputation management. However, apart from these tips you can also brainstorm your ways to put your page in the first page of SERP depending on towering points.