How To Launch An On-Demand Services App And Achieve Tremendous Success?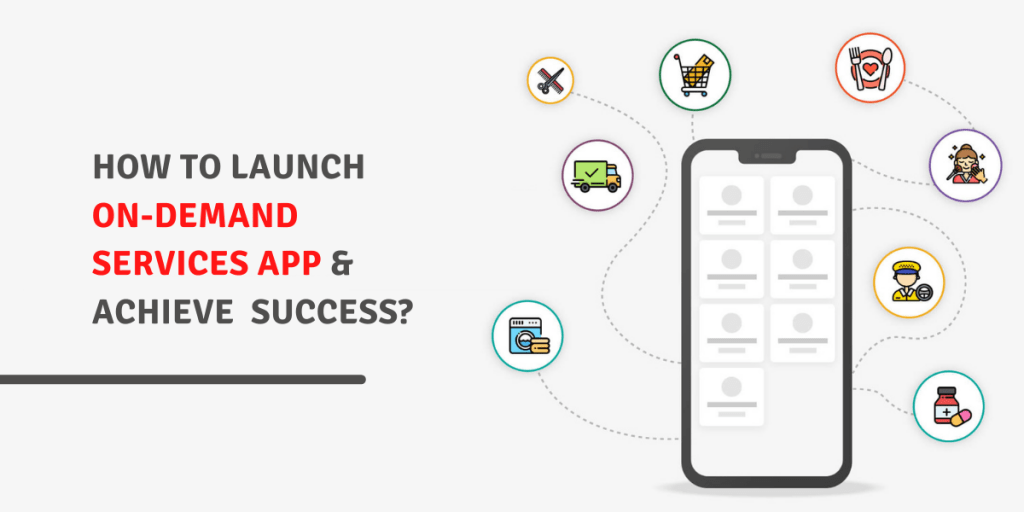 In recent years, many on-demand startups have started leveraging their services as the demand steeps. With just a click of a button from the smartphone, users can get the required services at their doorsteps. As the number of startups that provide on-demand services has been increasing, how to thrive in this competitive era?
This blog is curated to help you in understanding the logic behind running a successful on-demand startup. Firstly, you must get to know the huge craze for on-demand services.
Why is there a huge craze for on-demand services?
While addressing the craze for on-demand services, it would be a sin to leave out the convenience. Users can open the app, book the services at any time that falls under their convenience. Also, swift delivery of the service or product is another chief reason for the success of on-demand services. Alright!
Wide range of options
Generally, most of the on-demand services apps have multiple vendors who agree to cater to the requests of the users. It is definite that users have a broad range of service providers,,and they can choose the service provider of their preference. Since there are multiple service providers, users have the freedom to choose the one who provides budget-friendly services.
Ability to schedule the services
Since we have quoted that on-demand services offer the core of convenience, how can we miss out on scheduling the services? Apps that provide on-demand services have options for booking services instantly and for a later date as well. Alright!
Let us suppose that you have got all the plans needed for starting your on-demand business. Here, you need to know the different types of on-demand services that are in existence and have a huge demand among users.
Classification of on-demand services based on their popularity
Food delivery
If you have perfect strategies to run an on-demand food delivery service, then no one can stop you from raking in millions of dollars. We all know the number of food delivery apps that have mushroomed over the years. Each of these food delivery apps come up with a bag of distinctiveness. Online food ordering will never be blurred from the routine of people. Yes! Statista has reported that the preference of people ordering food from aggregator apps is more than that of restaurant apps. So, the obvious thing here is that users are high on apps that list multiple restaurants so that they can order a variety of food.
Grocery delivery
Next to food delivery, users give more priority to online grocery shopping. Many popular grocery apps like Grofers, BigBasket, etc., have stated that they receive plenty of orders due to the pandemic. Through these grocery shopping apps, users can choose the retail shop and order the groceries. The delivery process will be completed within the standard timings (half an hour).
Healthcare services
The pandemic has definitely triggered many on-demand services and among them is the on-demand doctor services. Patients can contact doctors of preferred specializations over a video call, which is one of the modes of communication. Other than video calls, users can also choose the chatting option.
These are some of the top smashing on-demand business ideas that are a massive hit among people. If you launch to startup an on-demand services app, you can try a ready-made app solution like Gojek clone script.
On-demand services and the types of business models
Marketplace or aggregator model
Newbie businesspersons who do not possess any infrastructure or resources like fleet, drivers, etc., can opt for the aggregator model. One of the most successful models in this model, where users will crowd to avail of the services.
Choosing the aggregator app is beneficial for users, as they have the option of selecting a service provider from a range of service providers. Also, users don't have to install multiple apps for the same service.
On-site model
Retail stores or entrepreneurs who wish to be the king of their business can opt for this model. If you have a proper infrastructure along with fleets and drivers, you can go for this model. Here, you will be taking up orders online, which will help you in boosting the brand's presence. Most importantly, you can enjoy the profits all by yourself.
What are the factors that influence the selection of a business model?
Previously, we went through the types of business models. Now, it is time to learn how to choose a business model. In general, choosing a business model will be influenced by a certain set of factors.
Number of on-demand services
Compared to an app that offers single services, people will show interest in an app that offers a variety of services. So, if you wish to offer different types of services, then the aggregator or marketplace app will be suitable for you.
Also, the interest of the users should be a major factor in choosing the business model. For example, UrbanClap lets its users choose the service provider and get the service from them. Whereas in Uber, the users don't have the choice for selecting the drivers. The app will automatically assign a driver.
Another example is where users can choose the model of the car in some ride-hailing apps. Whereas in Uber, the app will automatically assign a car for the users.
Pricing of the services
In order to address this topic, we need to take reference from the previous topic. As discussed, users will show interest in an app that lets them personalize their preferences. So, a service that gives freedom for personalization or provides a variety of options will be pricey.
Number of stakeholders
Basically, the aggregator or marketplace model comprises three stakeholders. They are service providers, drivers and customers. Whereas in the on-site model, there will be only two stakeholders. So, if you can manage three stakeholders, you can opt for the aggregator model or otherwise the on-site model.
Wrapping up
These are the imperative factors that help you in deciding the business model. The scope for on-demand services businesses is craning up, with each passing day. Choose the on-demand services that will match the demand for your potential customers.