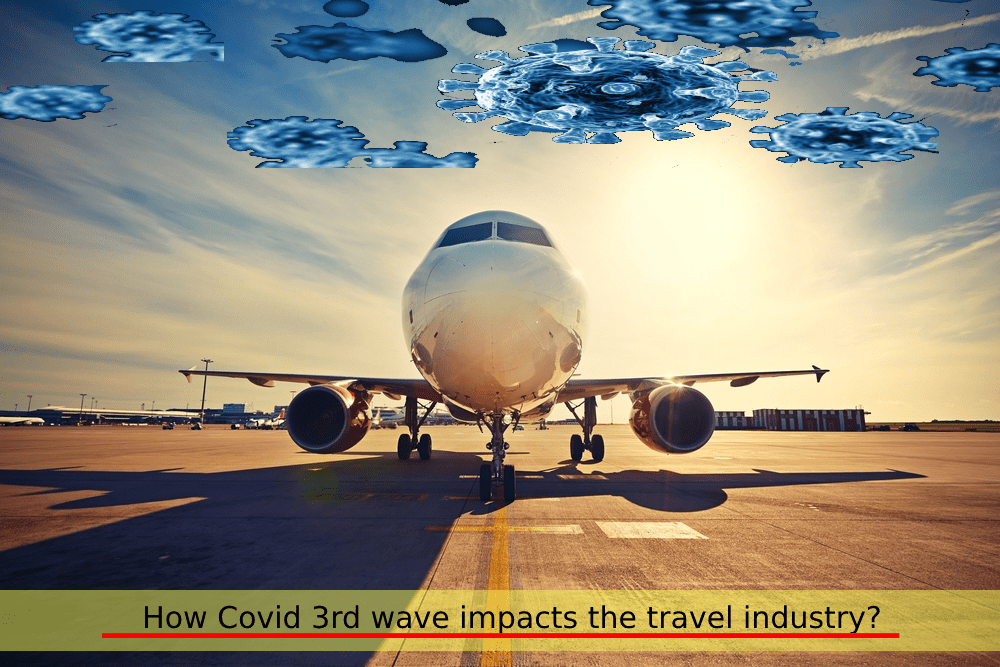 COVID: It came to India in March 2020. After that, almost all the sectors have been impacted greatly including the tourism and the travel industry. Some researchers found that its 3rd wave is the most dangerous one compared to the other two waves.
Scientists came up with the vaccine, but still, we are not able to control it in some of the cities in India as well as in foreign countries.
We all know that tourism and travel agencies have a great contribution in stabling the economy for any country. But this industry is one of the major affected industries because of the pandemic.
Impact on jobs in the traveling sector –
Some researchers have also come up with a study that stated that there is a great loss of jobs in this sector. As most of the international flights have been suspended, many people were lost their jobs. They are still figuring out the loss of jobs due to the 3rd wave of COVID. There is a great loss of income and economy in every sector.
Railways: Travel sector –
Railways sector ministers said railways have to equip with new trains if the demand increases.
As the migrants are still traveling as they are returning to their houses beck. They said that they might have to increase the number of trains running so that there will be no shortage of trains running to every destination.
During the first and second waves, the government has stated that people should carry a negative report or at least have done with the screening test before and after the traveling.
Similarly, some state governments still demanded the Covid negative reports while traveling using train transportations. Some of the states announced partial and full lockdowns as per the Covid situation in their states. Due to this many migrants have left with no option but to return to their own houses as their shops are shut down during the lockdown.
Cargo ports and waterways:
Cargo facilities have been declined considerably from March 2021 this year due to the adverse effects of a covid-19 pandemic. Nearly 4.59 percent fall in cargo handling process this year resulted in 12 major posts decrease their cargo handling processes. There are a lot of considerations that show that waterways have highly impacted by this pandemic.
Impact on other traveling ways –
During the COVID-19 pandemic, international travel should always be prioritized for emergencies & humanitarian actions, travel of essential personnel, repatriations, and cargo transport for essential supplies such as food, medicines, and fuel.
Some insights –
As countries bit by bit resume international travel, the introduction of risk mitigation measures attending to cut back travel-associated exportation, importation, and onward transmission of SARS-CoV-2. Shouldn't unnecessarily interfere with international traffic and maybe supported a radical risk assessment that's conducted consistently and habitually.
Decision-makers within the Member States will conduct risk assessments through a mixed-methods approach (explained during this document Associate in Nursing an attendant risk assessment tool) to calculate the extra burden bestowed by doable importation of COVID-19 cases and choose policies thereon basis of whether or not they have the capability to address this burden.
International travelers shouldn't be thought of naturally as suspected COVID-19 cases or contacts. Therefore, WHO doesn't advocate travelers as a priority cluster for testing?
The overall health and well-being of communities ought to be at the forefront of concerns once preferring and implementing international travel-related measures.
The decision method ought to embody associate degree analysis of true, taking into consideration the native context in countries of departure and destination. the subsequent factors ought to be considered: native medicine and transmission patterns, the national public health and social measures for dominant the outbreaks in each departure and in destination countries; public health and health service capability at national and subnational levels to manage suspect and confirmed cases among travelers, together with at points of entry (ports, airports, ground crossings) to mitigate and manage the danger of importation or exportation of the disease; and therefore the evolving data concerning COVID-19 transmission and its clinical options.
While positive news on vaccines has boosted the hopes of business enterprise businesses and travelers alike, challenges stay. Immunogenic rollout can take your time, and also the sector is doubtless facing stop/start cycles a few times. This may more injury business and human confidence, and business survival prospects. Despite the established resilience of the business enterprise economy to previous shocks, the sheer scale and combined economic and health nature of this crisis mean that the road to recovery is extremely unsure. Whereas there has been some beginning of international business enterprise activity, this remains terribly restricted. The domestic business enterprise has restarted in several countries, however will solely partly catch up on the loss of incoming business enterprise.
Conclusion –
We all need to be more careful. Only the people have the power to break this chain of Coronavirus.
Please support and follow the guidelines given to us and stay safe.