High-Rise Window Cleaning- An In Demand Cleaning Service Business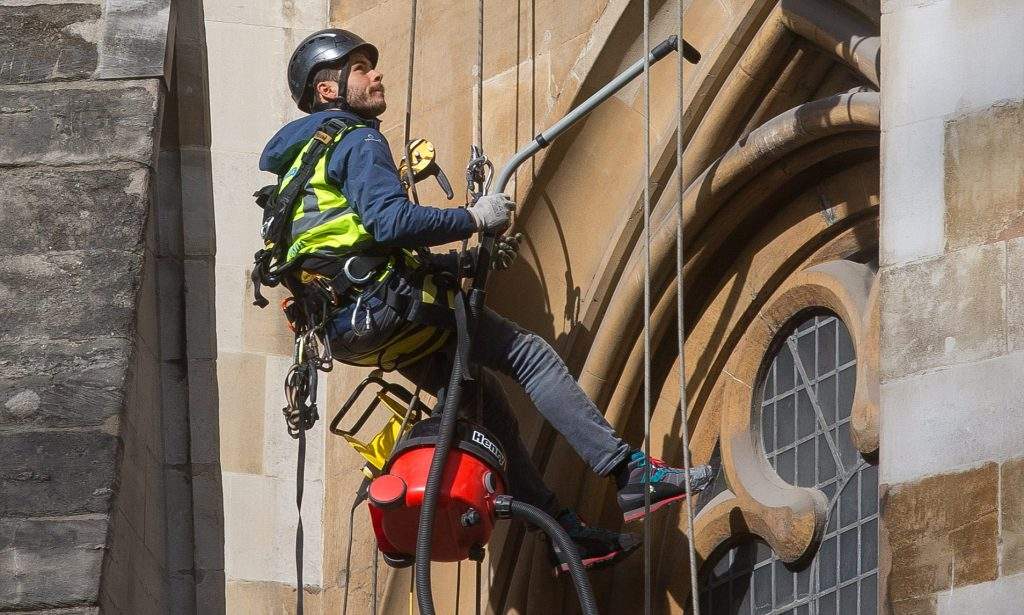 A window is the exterior of a building and in order to make the property looking pristine, it is important that you have clean windows. Cleaning the windows by yourself is a time-consuming and difficult task. Plus not everyone is an expert in cleaning the windows themselves. Now, this is where the professionals come in, they are highly trained, efficient and provide cost-effective cleaning services. The team will provide you clean windows from top to bottom to ensure that the aesthetics and the retail value of your building are maintained.
Health and safety are maintained:
The Health and safety of every client are important. The professionals make sure to provide you with the highest level of health and safety on the site especially in the times of covid-19. The experts whilst working on the site make sure that they wear masks and stay at 6 ft. apart from their co-workers and their client. They make sure to disinfect everything they touch before leaving so that the risks of spreading of covid-19 are low. Site-specific risk assessments such as testing of eye bolt, fall arrest, or fall restraint are also carried out. In this way, the staff can do the cleaning without worrying about your or the site management staff. The abseil window cleaning technicians are trained up to level 3 of IRATA health and safety standards which means that there is always a level 3 technician available on the site.
High-Rise Window Cleaning:
High-rise window cleaning might seem like an adventurous thing to do but at the same time, it is a very dangerous and tough job. It involves scaling a building that might reach more than 15 meters. It can only be done by professionals who require a skillset and training for the job to be performed properly. It is just like rock climbing, one wrong move can have very bad consequences. Sometimes the buildings are at very impressive heights, the use of rope becomes necessary. However, it demands mobility, and proper safety measures should be followed during working. Hence, the professionals are given rope access training so that they can perform their job without any hindrance.
Properly Trained Professionals:
No doubt high-rise window cleaning is a very difficult job. Not everyone can do this, the professionals should have zero height fears, should be physically capable, and have advanced industrial training before they are assigned this job. They should also be provided with the right equipment tools in order to complete the task in a correct and safe way.
How is a high-rise window cleaned?
Cleaning of the high-rise window is done by using the same techniques which are used for any other window cleaning. The only major difference is that a lot of expertise and safety measures are required in the high-rise window cleaning. In order to give a perfect finish to the commercial windows, they are cleaned with 100% pure water. The pure water is applied by using a force that is strong enough to lift the dirt and dust from the glass without damaging its infrastructure.
Cleaning tools used:
The cleaning tools used in the high-rise window cleaning are almost as same as the cleaning tools used for commercial or residential window cleaning.
A bucket and a glass scraper: Bucket filled with dish soap and a glass scraper for removing tough remove dirt and grime from the windows.
A sponge and a squeegee: A sponge is used for wetting the windows whereas a squeegee is used for wiping the dirty water, leaving behind a streak-free and clean window.
Toolbelt: This enables the users to have all their necessary tools in a cleaning belt so there hands are free.
Climbing tools:
Skyscraper window cleaners require some tools for circumnavigating the exterior of a building.
Moveable platform: This is used for shorter high-rise buildings and is much like a fixed scaffold. It enables the user to stand in one place whilst cleaning the windows. But when the time comes to move down to the next floor, a pulley of ropes enables the cleaners to lower the platform.
Bosuns Chair: Bosun's chair is used when the window cleaners are not standing on a moveable platform. It is a small platform that is attached to the pulley. It enables the window cleaners to descend from one floor to another. Cleaners can also hang their buckets from hooks present at the bottom of a chair.
Abseiling high-rise window cleaners are very much in demand. High-rise building owners are always looking for high-rise window cleaners with past experience. Though this is a dangerous job it very high paying and flexible. One can run their side business if they want to in addition to working as a high-rise window cleaner.