Food Plan To Finally Get Six Pack Abs!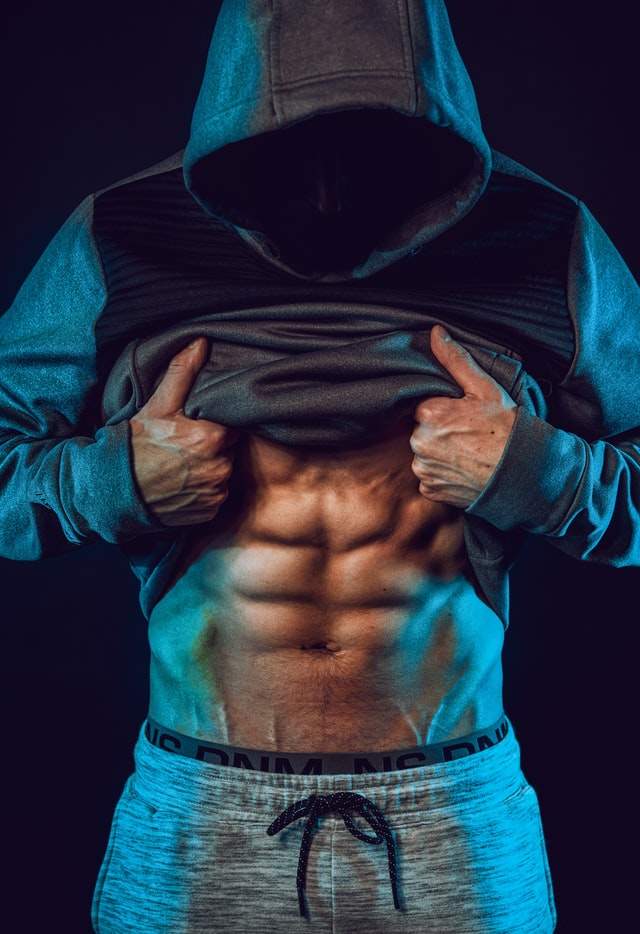 DO YOU NEED ONLY AB EXERCISES FOR YOUR ABS?
Many people make the mistake of only doing ab exercises, such as crunches and sit-ups, when they want to define the abdominal muscles. The secret to eliminating the layer of fat covering the abdomen is doing total-body exercises like push-ups, burpee, squat, lunge, and plank, which help to reinforce all the muscles of the body and they burn more fat.
It is also your body composition that defines whether your abs will be visible or not. Exercising 5 times a week but eating incorrectly by eating high-calorie foods will not help you get a flat and sculpted abdomen.
Did you know that …
… In men the abdominals are visible with a fat mass of 12% and 17% in women? The percentage, however, varies from person to person.
SO HOW IS BODY FAT REDUCED?
If you want to decrease your body fat percentage, you will have to arm yourself with patience and self-control because the body does not react to changes from one day to the next. The two key factors behind body fat loss are the variety of workouts and a balanced diet.
TRAINING
Choose repetition or total body workouts that help burn calories. To get results, you need to train regularly, at least three times a week. Add variety to your workouts to stimulate your body in a different way. The training plan will be the right guide for you to get your six-pack abs.
SUPPLY
The so-called caloric deficit must be between 300 and 500 calories, to be able to face weight loss in a healthy and balanced way. This avoids the yoyo effect when you gain weight quickly after a diet. 
Important to ensure proper nutrition is to include all three macronutrients in the diet: proteins, carbohydrates, and fats divided into these percentages :
55% carbohydrates
15% protein
30% fat
Choose natural unprocessed foods instead of pre-prepared or fast foods. Cooking your own meals is the best choice to know for sure which ingredients are introduced into your body.
CARBOHYDRATES ARE NOT THE ENEMY
To lose weight, it is not necessary to follow a high protein or low carb diet. At the end of the day, what matters is the number of calories consumed.
Did you know that?
Carbo and proteins both have 4 calories per gram.
A good thing to do, however, is to check what time you eat your carbohydrates. Plan your high carb meals before and after an intense workout. Carbohydrates give you the energy you need before training and accelerate the muscle recovery process that follows. Foods rich in fiber are beneficial for digestion and stay fuller for longer.
Complex carbohydrates are:
fruits and vegetables
legumes
oats
quinoa
wholemeal pasta and bread
brown rice
sweet potatoes)
Simple carbohydrates are white flour products, sweets and desserts, sweetened drinks, and fruit juices. If you really want to sculpt your abs, these are the types of carbohydrates to avoid.
PROTEIN FOR MUSCLE GROWTH 
It's true: if the goal is to build muscle mass, then you need to eat high protein foods. In many cases, however, the amount of protein needed after training to grow muscles is overestimated.
Proteins don't have to be of animal origin. In fact, there are many plant-based proteins, which contain unsaturated fatty acids, which can be taken in greater quantities.
Sources of protein:
legumes
quinoa
tofu and soy products
seitan
dried fruit
cereals
low-fat meat
fish
eggs
milk and dairy products
Moreover:
You can also gain muscle mass by following a vegan diet.
When eating high-protein foods, be sure to vary your meals to get all the necessary amino acids.
DOES EATING TOO MUCH FAT MAKE YOU FAT?
One gram of fat contains 9 calories and for this reason, fat is the most caloric of the macronutrients, twice as much as carbohydrates and proteins. This does not mean that you need to eliminate fat from your diet
Foods that contain essential fatty acids:
vegetable oils (olive oil, canola oil, hemp oil, and flaxseed oil)
dried fruit and seeds
avocado
fatty fish (herring and trout, for example)
Try to avoid cold cuts, sausages, and fried foods.
DON'T FORGET TO DRINK
Are you drinking enough water? Also remember that sugary drinks or fruit juices contain calories and if you consume them in high quantities, it could be the reason you are not losing weight. If you want to get a sculpted abdomen also, it would be necessary to give up alcohol or decrease the amount because it has a lot of calories and slows down the fat-burning process.
Good to know:
Alcohol has the same calories as fat (7 per gram).
A day you should drink 1.5-2 liters of water a day and even more if you exercise. We only recommend taking electrolyte drinks if you are doing long-lasting resistance training.
ABS FOOD PLAN
Now that you know what foods it takes to showcase a sculpted abdomen, let's help you achieve results with these two food plans. It is just an example that serves as a reference point and you can also decide to include snacks between meals. What matters is the number of calories consumed and the frequency of meals.
Woman, 65 kg, fairly active (for example 30 minutes of running), about 1900 kcal

Breakfast: Banana and oat pancakes (516 cal)
Snack: 1 coconut ball (195 cal)
Lunch: Red Lentil Curry (502 cal)
Snack: Blueberry and Kale Smoothie (320 cal)
Dinner: Greek chickpea salad (287 cal)

Male, 80 kg, fairly active (e.g. 30 minutes of strength training), about 2500 cal

Breakfast: Protein Shakshuka and two slices of wholemeal bread (425 cal)
Snack: Homemade granola bars (250 cal)
Lunch: Chickpeas and quinoa bowl (770 cal)
Snack: Strawberry Banana & Oat Smoothie (380 cal)
Dinner: Quinoa Stuffed Tomatoes (630 cal)
IN CONCLUSION:
To have defined abs it is important to vary the workouts and also the nutrition. KissAnime success story shows us that it is possible to achieve a sculpted abdomen, even beyond the age of 40.