5 Challenges of Azure Migration Solved by Consulting Services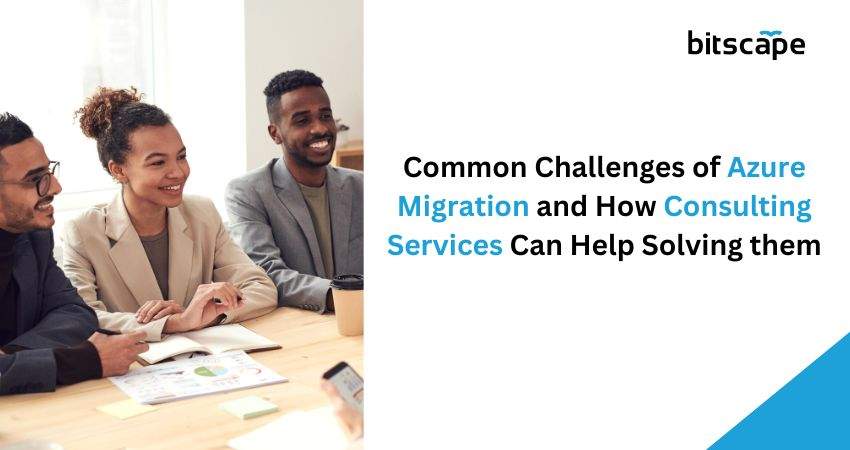 Cloud computing today has become one of the essential parts of any business organization. Microsoft Azure Migration Services have helped various businesses during the hard times.
Sooner, the Azure cloud, with its capabilities, became more popular, and the organization started shifting its workload to the cloud. Businesses experience cost-effectiveness, efficiency, and agility as cloud-benefited organizations by eliminating hardware and networking equipment. 
Azure offers a wide range of services that enable organizations to build, deploy, and manage their applications and services in the cloud. However, moving to the cloud is undoubtedly a benefit, but it is not an easy feat, as Azure cloud migrations come with unique challenges. Still, there are also several challenges that organizations must overcome when deploying and managing their infrastructure in Azure.
Today's article will discuss the Microsoft Azure challenges and provide a few solutions to overcome such Azure challenges by partnering with Azure cloud consulting service providers.
Let's Roll
Microsoft Azure Cloud Challenges and their Solutions:
One of the most widely used cloud computing platforms today is Microsoft Azure, which companies and organizations use to manage and store data, run apps, and more. Nonetheless, like any complicated technology, Azure can pose problems and difficulties for users. These are a few typical Azure problems and their fixes:
1. Security:
Regarding cloud computing, security is always of the utmost importance. Identity and access management, network security groups, and encryption capabilities are just a few of the security features that come standard with Azure. Users can also benefit from the enhanced threat detection, security alerts, and compliance reporting offered by Azure Security Center.
2. Integration with In-house System: 
As mentioned earlier in the introductory section, Azure cloud migration is undoubtedly a must technology that businesses may adopt, but every so often during the period of integration, companies may face challenges during migration of point-of-sale- systems, mail servers, third party web services, and more. 
Furthermore, external integration is often seamlessly migrated on the Azure cloud through challenges faced during internal or in-house system migration. Nonetheless, Azure provides several tools and services, including Azure Logic Apps and Azure Functions, that can help facilitate integration. The tools provided by Azure cloud help organizations with seamless migration services during complexity.
However, it is advisable to make a migration plan partnering with Azure cloud migration service provider to streamline the complex migration journey and ensure the system runs smoothly.
3. Cloud Training and Lack of Cloud Knowledge: 
Migration on the cloud might look easy and seamless for enterprises initially. Migration may bring many benefits, but it may be challenging for employees lacking Azure cloud system knowledge. Many developers and employees may need to be equipped or educated about cloud systems; hence it may cause adverse effects on business productivity and may backfire on ROI.
However, with the help of Azure cloud migration service, provider enterprises can arrange training sessions, educate employees about the new system, and make employee train about all cloud systems with in-depth knowledge so that employees can make maximum use of Azure cloud and maximize productivity with high ROI.
4. Cost: 
Unlike physical hardware investments, cloud migration costs are not fixed or stable. It can cost you as high you go to optimize cloud services. As it goes pay-as-go, the high-value service your business chooses, the more you spend on cloud expenses. Moreover, numerous Azure cloud tools are available, like Azure Advisor, Cost Management, and Reserved Instances. Your employees and managers need to know how to use those tools effectively. Lacking knowledge of using such many minimizes the return on Investments and may result in unnecessary business expenses.
5. Complexity
The ability to provide a business with a choice of capabilities and migration services for internal and external migrations makes Azure cloud migration unique. But, because so many migration choices are available, companies may occasionally become paralyzed by indecision. They can discover that the migration services they receive are inappropriate for their commercial space. So, to simplify the process of picking the best migration services for your business needs while using Azure cloud, enterprises can contact an Azure cloud consulting company to build a strategy and select the option that best suits their needs.
Conclusion
In this fast-moving world of the cloud, businesses need to be cloud smart and invest more in cloud computing technology to stay one step ahead of the competition. There are chances that migration may catch businesses to loss due to some challenges that are not defeated during the journey. Hence it is safe and advisable to take the assistance of a Microsoft Azure consulting service provider. However, choosing the exemplary Azure cloud migration service is the key to success.
Assistance from an experienced Azure cloud migration consulting company can help businesses with the right planning and provide a set of services like Azure IaaS services, Azure Migration services, and more. Such services help organizations with the correct planning, execution, and implementation.