Find Out Top 5 Amazing Benefits Of Hybrid Events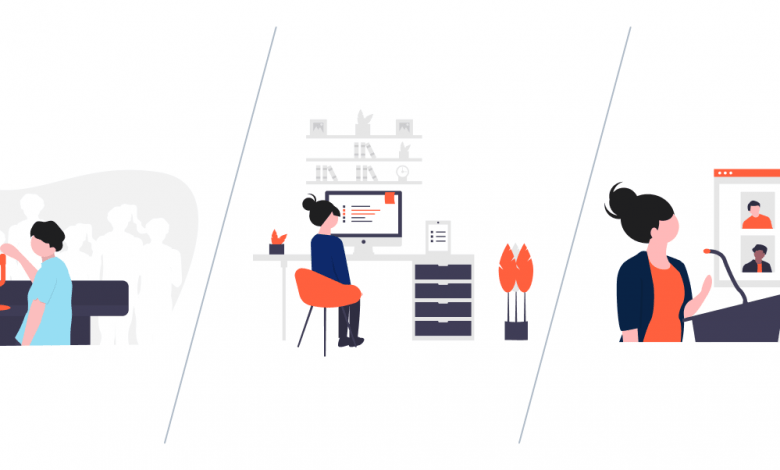 As hybrid events are taking over the world, this makes it the perfect time to find out the incredible benefits of this tech-savvy innovation!
Did you ever want to experience the in-person meetings and interaction but, from the comfort of your houses? Well, what if we tell you that you can actually fathom your imagination! Yes, you can definitely interact with a global audience while maintaining your utmost solace. 
Surprised, right? Allow us to explain. Hybrid events have been around the corner for quite a while now. These events have empowered individuals to come together and experience an immersive as well as an interactive environment that is literally the best of both worlds ie. virtual and in-person.
With that being said, let us dig a little deeper into the hybrid events and the benefits of hosting one for your organisation.
What Do You Mean By A Hybrid Event?
Hybrid events have gained a significant amount of popularity with their unique strategy. They work by combining live elements of a physical show along with the online element of the virtual world. In simple terms, hybrid events are the perfect fusion of both in person as well as virtual elements. It empowers individuals to partake in informative conceptualizing sessions from every corner of the world.
Hybrid events are the perfect alternative to in-person elements because they have the touch of interaction along with the flexibility of the virtual world. Organisations have started to incline more and more towards hybrid events. Some of the most common examples of hybrid events are:
Hybrid product launches
Conferences 
Hybrid trade shows
Hybrid concerts and a lot more.
Find Out The Top 5 Benefits Of Hybrid Events 
Undeniably, hybrid events have endless benefits that have lured organisations around the globe into this new trend. Let us have a look at some of the most prominent benefits of hosting a hybrid event in today's era.
1. Incredible flexibility 
Hybrid events empower an organisation to stream the on going event virtually on a virtual hybrid event platform. This facilitates them with a worldwide reach as attendees can partake in the event either virtually or by visiting an on site event location. In simple words, it enables you to host any type of event on a hybrid event platform and maximise your attendee engagement.
For instance, you can easily host hybrid conferences, hybrid fashion shows, hybrid product launches, hybrid webinars, and a lot more. Additionally, all of these events are quite pocket friendly as well as effective.
2. Reduced carbon footprints 
By now, we all must have understood that each and every individual is responsible for their impact on our environment. Carbon emissions directly affect the environment and the standard of living. In order to follow a sustainable lifestyle, it is recommended to reduce the carbon footprint that adversely affects the environment.
Hybrid events are perfectly curated to follow this ideology of a sustainable lifestyle. These types of events help in eliminating unnecessary expenses along with reducing in-person meetings and carbon emissions. It also contributes by reducing wastage of important resources like food and water. Therefore, the hybrid events help in building a positive image for your brand along with being environmentally conscious.
3. Wider sponsorship opportunities 
As we mentioned above, hybrid events allow you to reach a global audience with the utmost ease. This implies that even your sponsors, as well as exhibitors, get a chance to connect with a worldwide audience with the help of your event. This is one of the most prominent benefits of hosting a hybrid event. It not only attracts more brand sponsors for your event but also helps in providing a greater return on investment to your partner brands.
Furthermore, your event facilitates the sponsors by providing more value to their money. This is so because apart from a global audience, a hybrid event platform empowers them to connect to the audience via effective networking features. Therefore, hosting a hybrid event is quite beneficial for any organisation.
4. Boosted content engagement
Hybrid events often curate the perfect opportunity to maximise content engagement. As we all know, hybrid event platforms perfectly amalgamate all the essential features to amplify your event. Proper utilisation of such tools and equipment can enhance the performance of your event in no time. Furthermore, while hosting a hybrid event, most organisations tend to record their content.
This enables them to stream the pre-recorded video as well as audio clips as and when required. These clips can further be provided to all the intrigued candidates with the help of various social media platforms. This will maximise your audience participation and help you spread the word to a global market. That's not all you can also utilise a variety of features provided by the hybrid event platform to make your sessions more engaging. This will boost audience participation and attract positive feedback from all the virtual attendees.
5. Budget oriented
Unlike the traditional methods of hosting an event, hybrid events are extremely budget-oriented. The cost of hosting a hybrid event does not burn a hole in the event organiser's pockets. Furthermore, hybrid events eliminate the cost of unnecessary expenses like sitting arrangements, travel expenses, setup charges, and so forth.
Moreover, the participation fee for these events is also quite pocket friendly. This empowers maximum audiences to partake in these effective brainstorming sessions. Hybrid events are so budget-oriented that it enables even the small startups to host informative hybrid sessions and reach a global audience in no time. 
Conclusion
There is no denying the fact that hybrid events are our new future! Hybrid events have empowered organisations to stream any type of event on a virtual medium. This facilitates a global reach with maximum effectiveness.
Although hybrid events are a result of a considerable new outlook, industrialists around the globe have majorly inclined towards this trend. In such a case scenario, it is expected to have some doubts regarding this tech-savvy innovation. So, in order to help clear all your doubts and facilitate you, we have come up with this article.
In the above-mentioned article, we have talked about the top 5 benefits of hosting a hybrid event. We trust that this article will provide you with some advantages and help you host your upcoming hybrid event with maximum ease.