6 Features Of Serviced Apartments That Standard Hotels Don't Have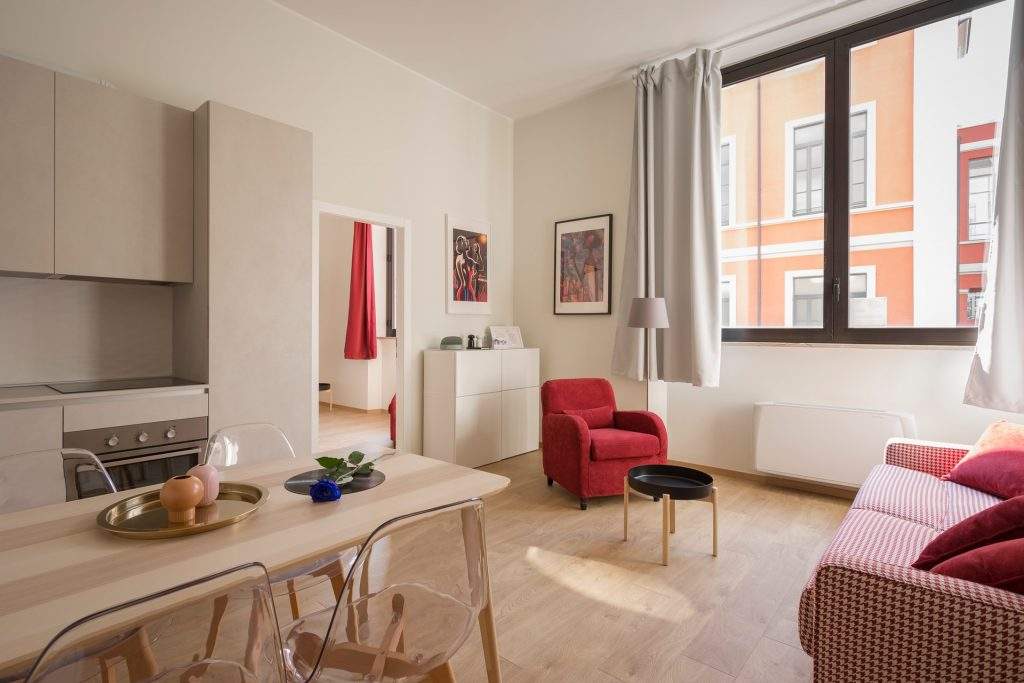 Today, travelers have a wide array of accommodation options to make their dream trips a reality. Each property has its own set of pros and cons we should weigh. Hotels are luxurious properties with round-the-clock housekeeping, security, and high-end amenities, but the rooms are usually cramped and their steep rates can hurt your savings. Self-catering vacation rentals are generally more spacious and cheaper, but the lack of security, housekeeping, and luxurious amenities can impact your overall travel experience.
You just can't have everything under one roof…or can you?
Enter the serviced apartment, a promising lodging option that can give travelers the best of both worlds. As its term suggests, serviced apartments are basically apartments (complete with one or more bedrooms, kitchen, and living area) that have the convenient services of hotels. They're perfect for extended stays and are often sought by business travelers and group travelers on holiday trips.
Even if they come with luxurious hotel features such as housekeeping, toiletries, and 24-hour front desk staff and security, serviced apartments are deemed better than hotels in certain aspects. We're here to list down 6 amazing features of serviced apartments that make them a more attractive option than hotels.
1. A bigger space that doesn't cramp your style
Your "temporary home" away from home doesn't always need to be as cramped as a shoebox. You can have a generously bigger living space with a serviced apartment. They are generally 30% bigger than standard hotel rooms, which is a big plus if you're staying for longer periods or if you're traveling with a group. You can also choose up to three-bedroom suites, and even duplex penthouses.
2. You'll have a fully-equipped kitchen
One of the best features that set a serviced apartment apart from standard hotels is the kitchen. They are stocked with cookware and tableware, allowing you to prepare anything from quick microwaveable meals to party-worthy full-course dishes. You can save a lot of money on food while keeping yourself full and healthy if you cook your own meals and dine in the comforts of your suite.
3. That "home away from home" vibe
Next to bigger room sizes, serviced apartments come with homey areas and furnishings that will make you feel more at home.
No need to use the desk for dining — serviced apartments have real dining spaces. They also come with a living area fitted with a comfortable sofa, coffee table, and TV, so you have other means to relax other than your bed. You have home comforts like DVD players, music systems, Wi-Fi, and kitchen appliances, giving you comfort as you unwind.
With all these homey features, that "homesick" feeling can somehow be eradicated.
4. Serviced apartments have laundry facilities
Doing the laundry might not be your favorite thing to do at home, but you'll surely be grateful if you find an accommodation property with a self-service washing machine. Hotels often come with laundry services, but the charges can add up with extended stays. Serviced apartments, on the other hand, are furnished with a washer and dryer that will allow you to wash your own clothes. This will help you keep the costs down while encouraging you to pack light.
5. Pets are welcome
Traveling with a four-legged companion? No need to find a hotel that caters to pet owners or stay in less desirable rooms that are aligned with smoking rooms. Pets are welcome in serviced apartments. They're not only welcome in the suites but also in public places and outdoor areas. Just make sure to follow their pet policy, including having your pets on a leash in public places.
6. Value for money
Frugal travelers can agree: if you're planning to travel on a budget with your family or friends, staying in a hotel just isn't a practical choice. Hotels aren't just expensive — they're also cramped and inadequately furnished with things you might need in your dream trip. They also limit the number of guests per room, forcing you to upgrade to a bigger suite or book two standard rooms.
When browsing accommodation options, you may be surprised that many serviced apartments are priced competitively to hotels. Other serviced apartments are even cheaper.
With a generous space that's fully-furnished with stylish decors and homey features, it goes without saying that serviced apartments are more cost-effective than standard cramped hotel rooms. You can also cut down costs by doing your groceries and cooking all your meals in the kitchenette provided.
Bottomline
You don't need to downgrade to one-star hotel accommodation to make your trip affordable. You also don't need to settle for a self-catering vacation rental to get extra square footage and homey furnishings. Serviced apartments will give you luxury accommodation sans the hefty hotel price tag. All you need to do is to look for the best property out there